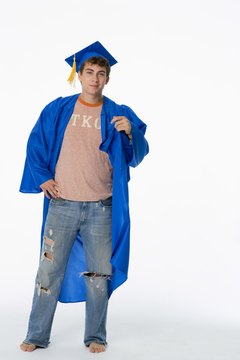 To be in a fraternity you have to play by the rules.
For decades fraternities have been an integral part of the college experience. Even though there are general, overarching stigmas and reputations associated with the fraternal experience that range from myths to realities, there are several qualities that almost all fraternities possess. No college or university is exactly alike, and there are a great number of different fraternities, but there are some general guidelines that most undergraduate institutions require in order for you to get into a fraternity.
Enrollment
Regardless of the fraternity you approach, whether it's Tau Kappa Epsilon, Theta Chi, Delta Nu or any other, you're going to be told that in order to be eligible to join you need to be enrolled in the college where the fraternity is located. For example, if you're interested in joining the Epsilon Sigma chapter of Theta Chi fraternity at Wagner College, the brothers of Epsilon Sigma will tell you that you must be fully enrolled at Wagner College to pledge.
Grade Point Average
The vast majority of fraternities have a grade point average requirement for potential brothers. This does vary, and the more prestigious the fraternity and school the higher it can be assumed your GPA will have to be to join. For example, Washington State University requires that potential fraternity members have at least a 3.0 GPA coming out of high school. As far as what fraternity members need to maintain, Washington State leaves that up to the fraternity chapters to decide.
Social Standing
Many public and private undergraduate institutions have strict social rules and expectations for students living both on and off campus. If a student has received a single or series of citations for inappropriate social behavior, the fraternity or institution at large may prohibit said student from pledging. Many colleges stipulate that a student cannot be on any kind of social probation in order to be eligible to pledge a fraternity.
Year
Even though there are colleges that allow first year students to participate in rush and eventually pledge a fraternity, there are also those that stipulate a student must be in their sophomore year or above to attend fraternity rush events. This is done to ensure students are aware of which fraternity is right for them before deciding to join, or if the fraternity experience as a whole will be productive.
Photo Credits
Jupiterimages/liquidlibrary/Getty Images