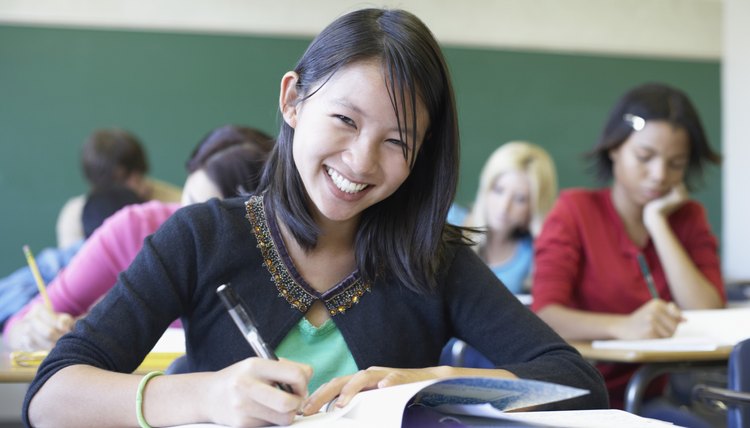 Because there is a wide variety of classes to choose from in college, selecting good classes can feel a bit intimidating for college freshmen.
To incoming college freshmen, selecting classes can be a bit intimidating. There is such a wide variety of classes from which you can select that it may be a bit frustrating to figure out where to begin. There are several good classes, however, that you can take in order to ease into your freshman year of college.
Seminar Classes
Many colleges offer transferable semester-long seminar classes tailored especially for incoming college freshmen. These for-credit classes help new students develop their critical thinking, writing and communication skills and teach them the basics of constructing a research paper, time management and study skills.
General Education
Every student must fulfill general education requirements before graduating with a degree. For example, each student is expected to take a number of classes in math, science, psychology, English, language, writing and history. However, students are usually given a choice as to which general education class they take. For instance, if you are required to take a history class, there are many variations of history courses you can choose from to satisfy the requirement, including American history, world civilization, Irish history or 17th century European history. If you are an undecided freshman student who has not yet declared a major, taking your general education classes will also give you the opportunity to explore different fields of study. Conversely, a freshman who already knows what he wants to study may be able to choose general education credits that will count toward his major.
Electives
Electives are classes in which students can enroll outside the required coursework, so long as it is in the same field of study. For example, an English major may choose to enroll in another humanities course, such as cinema history or creative writing. Electives give students the opportunity to try something new in their field or to try something interesting outside of it. Freshmen students who are uneasy about starting college may wish to enroll in one of the electives during their first semester rather than delving right into all the required classes at once. For instance, if you consider math one of your more challenging subjects, do not begin your first college semester with math. Instead, kick-start your college career in a subject that might interest you the most, such as literature. Starting college with a class you enjoy will help ease you into your first semester.
Your Adviser
Every college student is assigned an adviser. If you are still unsure about what might be good classes to take during your freshman year, schedule a meeting with your adviser. According to an article in the Huffington Post, Micha Sabovik, the Assistant Dean at Boston University's College of Communication, says, "A quick 15-minute appointment with an adviser can set you on the right track for the semester and beyond." In other words, your adviser will be able to help you organize a manageable class schedule and even aid the undecided freshman in deciding a major.
Photo Credits
Jack Hollingsworth/Digital Vision/Getty Images