Physical education is one part of the elementary and high school curriculum that is often a source of debate. Some people view it as an important way to show children the necessity of exercise, while others see it as a waste of time. Therefore, a physical education teacher must have clear, definable goals and objectives to ensure that he is, indeed, making progress with his class over the year.
Learn a New Skill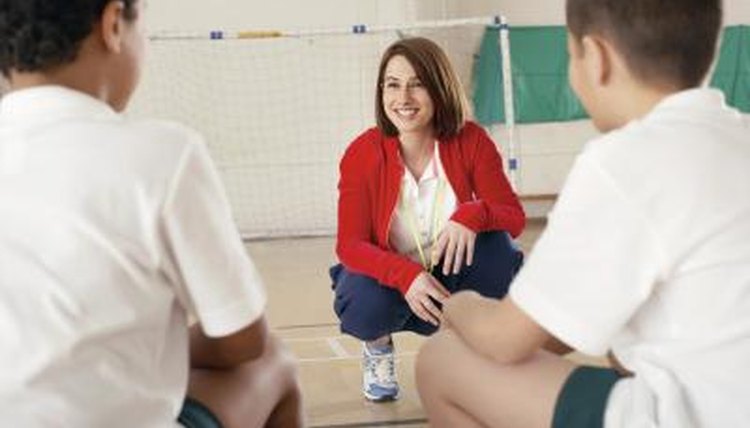 Aphysical education teacher talks to two boys in a gym.
Physical education teachers are often the only adults in a child's life who can teach him the fundamentals of playing sports. For some children, this might be the first time they are holding a bat, kicking a ball or trying to score. Teachers can focus on one skill at a time, such as the proper way to hold a baseball bat, to help children improve their game for life.
By practicing a new skill with children every week or every two weeks, you will ensure they graduate from the year with a collection of improved abilities.
Learn the Rules of the Game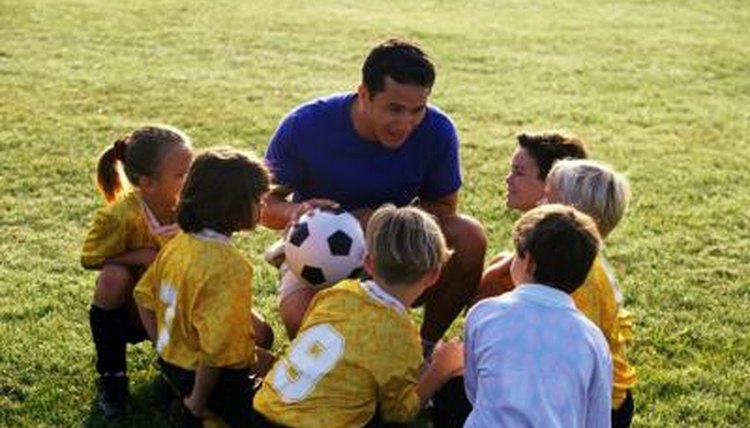 A gym teacher explains the game of soccer to young children on a field.
Similar to the skills involved in playing games, children might be unaware of the rules of some sports games. One objective of the P.E. teacher should be to clarify the rules of basic games such as soccer, basketball and baseball, while introducing other games to children that they might not know. These can include gaga, dodgeball, tennis, kickball, football, squash, lacrosse and swimming.
Presenting students with a game they would otherwise be unaware of gives them a chance to play more sports outside of school. If they have no interest in the standard games but enjoy squash, for example, they may become more active.
Get Some Exercise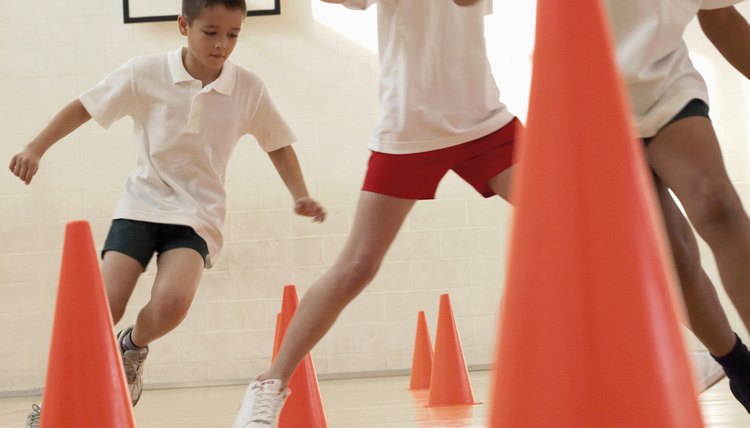 Three students run through an obstacle course in gym class.
The amount of exercise your students will get per week depends on how many hours your school has allotted to the physical education period. No matter how many hours or how little, this class gives the children a chance to move around and be active, possibly for the only time all day.
With the abundance of video games and shows on TV, children today have more temptation than ever before to just sit on the couch, and physical education class is one chance to ensure that they will be moving.
Teach a Healthy Lifestyle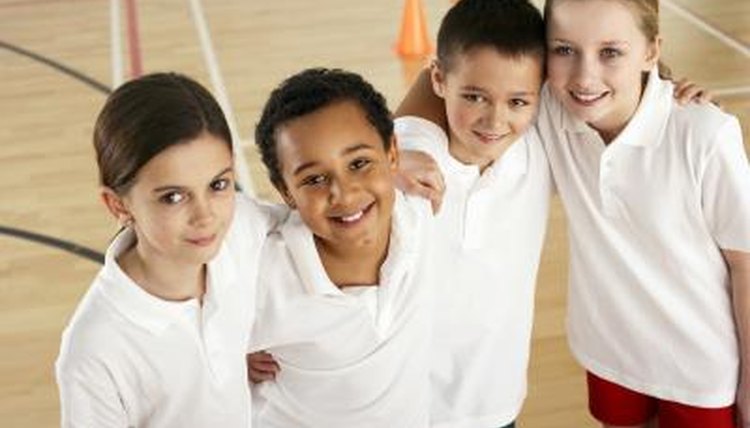 A group of friends with their arms around eachother in a school gym.
Another goal should be to teach children the importance of physical activity. Part of physical education is to educate students on the lifelong goal of the class, which is to incorporate regular exercise into their daily lives. Physical education teachers can explain the benefits of exercise, as well as the problems that can arise from inactivity, such as obesity, high cholesterol levels and overall poor health. Children should end the year with the importance of exercise impressed upon them.