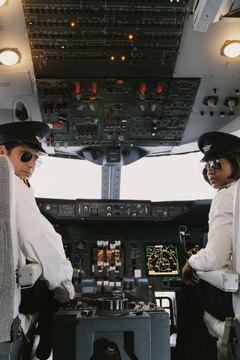 Flight school prepares you for a career as a pilot.
In today's advancing society, many airlines are requiring that pilots have a degree for employment. Those airlines not requiring degrees still insist but their pilots have excellent flight training. To meet these requirements, consider attending an aviation or flight school, where you will receive the knowledge and training needed to become a pilot. There are a number of high-quality schools for pilots across the U.S.
Academy College
Academy College in Minneapolis offers its students the chance to earn an Associate of Applied Science degree through an exhilarating pilot training program that emphasizes hands-on learning experiences. While completing the college's FAA-approved curriculum, flight students have a chance to complete the 250-hour flight experience requirement needed to apply for a commercial pilot's license. Students participating in this flight program can also earn private, instrument and commercial pilot and flight instructor single-engine certificates, flight instructor instrument certificates and instrument and commercial pilot multi-engine certificates. Upon graduation, Academy College students have landed jobs as airline, corporate, cargo, fire watch and air charter pilots.
Spartan College of Aeronautics and Technology
Located in Tulsa, Oklahoma, the Spartan College of Aeronautics and Technology is one of the most comprehensive aviation schools in the Midwest. While it does not offer a degree program, the Spartan College flight training program allows students to complete certifications needed for a professional pilot's license in less than a year. The school itself is located on a tower-controled airport with dual runways and owns around 50 aircraft carriers. Students of Spartan College also have opportunities to participate in National Intercollegiate Flying Association competitions both regionally and nationally.
Embry-Riddle Aeronautical University
With campuses in Daytona Beach, Florida and Prescott, Arizona, Embry-Riddle Aeronautical University boasts to be a world leader in aviation education. Both campuses offer extensive training for future pilots and make a number of different air crafts available to students. Embry-Riddle attempts to train pilots in problem-solving, as well as flight, using cross-wing trainers and simulators to help pilots develop skills that will prepare them for all types of flight conditions. Students in Embry-Riddle's flight program are awarded a Bachelor of Science in aeronautical science upon completion.
Aerosim Flight Academy
The Aerosim Flight Academy, formerly known as the Delta Connection Academy, offers world-class flight training for beginner and novice pilots. Since the academy was started by airline companies, its instructional program is specifically designed to prepare students to become successful airline pilots. Through the Professional Pilot Program, students can achieve the certificates and flight hours needed to apply for a pilot's license. The Aerosim Flight Academy also has a partnership with several airlines which allow graduates a better chance at getting a job upon completion of flight training.
Photo Credits
Digital Vision./Photodisc/Getty Images