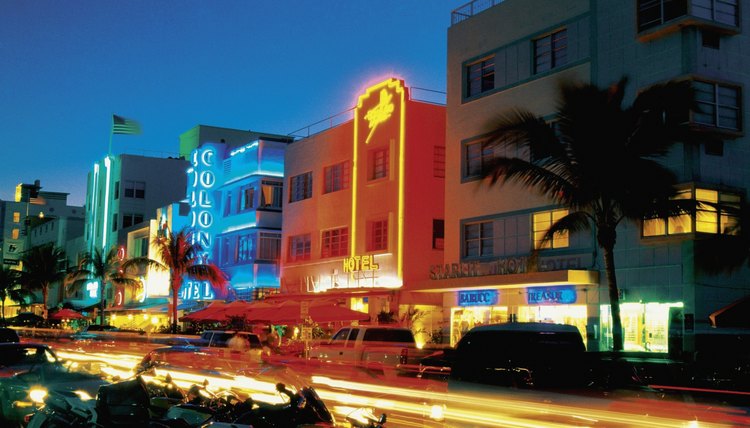 Gianni Versace is probably the most famous fashion designer to call Miami home.
Miami is a mecca for fashion and beautiful people, so it makes sense to attend a fashion school in this area to get a unique experience. There are plenty of international travelers and people living in Miami who come from all over the world to offer fashion inspiration. Four schools in Miami offer a certificate or degree in fashion that you can explore, and each school allows you to pursue disciplines such as runway design, fashion merchandising, fashion design, clothesmaking and personal styling.
Miami International University of Art and Design
Miami International University of Art and Design has been around since 1965 and offers an Associate of Arts in fashion design that takes about two years to complete when you are going to school full-time. Its Bachelor of Arts in fashion design takes four years. When this school opened its doors, fashion merchandising was its first degree program, and the school has since evolved to offer a wide range of undergraduate and graduate degrees. Those hoping to attend are encouraged to attend an open house or the Summer Studio. Common classes associated with the fashion design degrees include fashion show production, fashion design, history of fashion, fashion trends, fabrics and textiles, fashion illustration, pattern-making and draping, construction and fashion buying for design. This school admits approximately 36 percent of applicants, and it has a 61 percent graduation rate.
Lindsey Hopkins Technical Education Center
The Lindsey Hopkins Technical Education Center is a non-traditional education center that offers a certificate in fashion and apparel design that takes one year to complete. This school was the first of its kind in Miami-Dade county and it currently serves more than 9,000 students every year. Prospective students should meet with a counselor to complete the enrollment application and associated financial aid paperwork and to set up a time to complete the basic skills assessment. Students will take courses that train them to be a retail salesperson, fabric and apparel pattern-maker, tailor, dressmaker and custom sewer and fashion coordinator and stylist. All of these courses are taken to prepare students for careers in tailoring, dressmaking, pattern-making and fashion consulting. This school has a retention rate of 20 percent and a graduation rate of 15 percent.
Lynn University
Lynn University has been around for more than 50 years, and it hosted the third presidential debate during the 2012 presidential election. This private college offers a Bachelor of Science in fashion and retail that takes approximately four years to finish when you are attending school full time. To apply, students must submit official ACT/SAT scores, a letter of recommendation, an essay or personal statement, the enrollment application with a $45 fee and all official transcripts. Classes include fashion and retail management, fashion show production, fashion and retail strategic planning, buying and inventory planning and the evolution of fashion and retail, in addition to a variety of business-related courses in finance, management, marketing and economics. This school has a full-time retention rate of 60 percent and a graduation rate of 31 percent.
Keiser University
Keiser University is unique because students only take a single class at a time while pursuing their Associate of Science in fashion design and merchandising. The program takes about two years to finish when you are attending school full time. This degree provides students with the basics related to fashion, retail and design and business as it is related to the fashion industry. Classes include apparel construction, fashion history, product development, computer-assisted design and promotion, fabric study, illustration and sewing techniques. Before graduation, all students have to present a portfolio for faculty approval. This school has a student-to-faculty ratio of 11 to one and a graduation rate of 44 percent.
Photo Credits
Medioimages/Photodisc/Photodisc/Getty Images