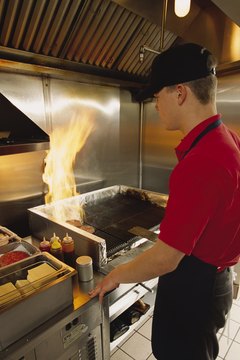 A part-time job may mean some extra cash but also lower grades.
Data from the 2011 U.S. Census shows that about 28 percent of high school students work part time for about 20 hours a week or less, and 1 percent work full time. While working can have some negative effects on students, such as declining grades, holding down a job while in high school can also offer many advantages.
Builds Character
Working during high school can be a character-building experience for students because it teaches them about responsibility, commitment, initiative, independence and accountability. These character traits are valuable in many areas of life and can even help students who are applying to college, according to the College Board website. The College Board contends that working a summer job can build as much character as more notable academic undertakings, so it's important that students let admissions officers know how the job helped them grow as a person.
Teaches Important Skills
To successfully hold down a job while in high school, students must have good time management skills and organization. Working allows them to practice multitasking, work on a team, build communication skills, learn interview etiquette and prioritize tasks. Parents can use this opportunity to teach children how to budget their money, avoid debt and keep track of income taxes. These skills will be important later on in college and when students enter the workforce as adults.
Effect on Academic Achievement
Of course, it is possible that working students may stretch themselves too thin, and, as a result, grades may suffer. According to the Association for Supervision and Curriculum Development (ASCD), in a study of more than 12,000 students in grades eight through 12, researchers Herbert Marsh and Sabina Kleitman found that as students work more hours, their grades decline. They are also more likely to have lower academic and career goals, including being less likely to attend college, than their nonworking counterparts. The research found this to be true for all students, regardless of race, gender, socioeconomic group or academic ability.
Social Consequences
Working during high school can also negatively affect students' social lives. The Marsh-Kleitman study also found that students who worked in high school were less likely to be involved in extracurricular activities. They may feel left out and isolated from friends, especially on the weekends if they are at work and their friends are out enjoying themselves. Of course, working an after-school job also means less family time at home in the evenings.
Photo Credits
Photodisc/Photodisc/Getty Images