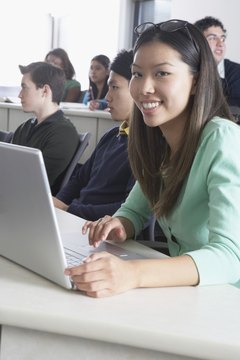 Laptops in a high school classroom improve technology skills and make learning come alive.
Technology skills must be a prime focus in a 21st-century classroom. As accessibility improves, more and more schools are providing laptops for all students and teachers. They can be effective at broadening horizons and engaging learners, but the benefits and drawbacks of such a system are important to understand to make progress.
Technology Skills
An obvious benefit of laptops is technology immersion. According to a study in the state of Maine on laptop use in high schools, 71 percent of students felt their technology skills increased because of the accessibility of laptops. Because of the exposure and focus, students gain skills that make them more competitive in the working world. In another study by Gabriel Dumouchel, 74 percent of students felt using laptops helped them work more efficiently. The ease of typing in a word processing program frees up time for students to edit their work and be more creative with projects. Using laptops in a classroom also boosts teachers' skills, and professional development is more geared toward improvement in this area.
Access to Resources
Laptops also provide access to more diverse sources of information that otherwise would be unavailable. In the Maine study, 96 percent of the teachers who participated said the students had enhanced access to resources because of laptops. This contact with multiple sources of information improves students' research abilities. Educators also indicated in Demouchel's report that access to information, variety of resources and student motivation were the top three benefits of laptop use.
Individualized Learning
Providing each student with a laptop makes the learning process more personal. Classrooms with laptop access rely less on dated textbooks and promote a more explorative approach. The Maine study found that 68 percent of teachers surveyed said students used their laptops to investigate topics on their own. In a related study, students at West Point Academy felt their learning was more efficient and in-depth because of laptop use. Using laptops for a more student-centered approach lets them take ownership of their education and promotes lifelong learning.
Classroom Management
Drawbacks, such as distractions or inappropriate Internet use, can cause concern for educators, but implementing structured policies on laptop use can foster a learning-centered classroom environment. A University of Michigan research study recommends rules for laptop use in a classroom, like laptop-free times. Programs like LanSchool allow teachers to monitor students' laptop use and restrict websites from their own consoles. Student communication with teachers also is increased through email and school-based learning management websites, such as Schoology or Edmodo.
Photo Credits
Jack Hollingsworth/Photodisc/Getty Images