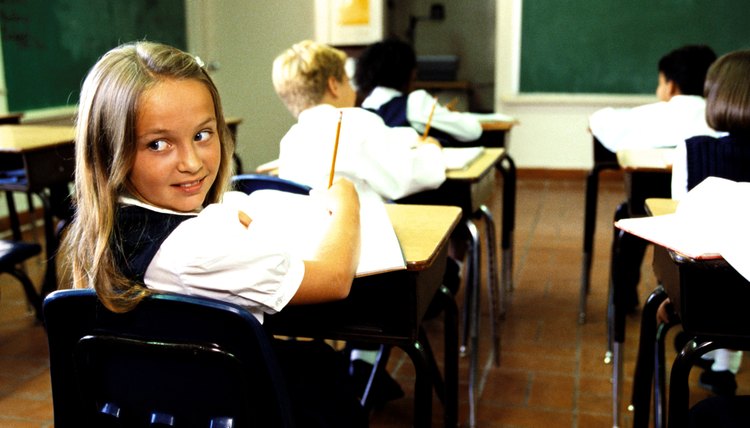 School uniforms help to minimize disciplinary problems.
While uniforms are generally considered to be a private school tradition, the percentage of public schools that have uniform policies in place increased from 12 percent to 20 percent between 1999 and 2014, according to the National Center for Education Statistics. A school uniform policy requires all students to dress according to a specific mandate. And though that mandate may offer some flexibility (between long-sleeved and short-sleeved shirts or a choice of solid colors, for example), it is much stricter than a regular school dress code. Policies can be put in place for many reasons, but some administrators believe that uniforms will improve student behavior.
Increased Attendance
Uniforms may lead to a lower absence rate, which could increase graduation statistics in the long run. A Youngstown State University study found that attendance in four Cleveland-area public schools rose an average of 3.5 percent after they instituted the use of uniforms, according to Cleveland 19 News. It's not clear exactly what it is about uniforms that leads to better attendance figures. It could be that the routine increases a student's overall sense of discipline and responsibility or eliminates distractions in the early morning hours. Uniforms may also make students more confident about attending school if they were previously ridiculed or bullied for their clothes.
Decreased Disciplinary Activity
Researchers who reviewed records at Sparks Middle School in Northern Nevada before and after the school required uniforms discovered that there was a 10 percent drop in disciplinary write-ups, an astounding 63 percent drop in incidents referred to the police, and a decrease in reported gang activity and gang-related graffiti, as reported in Nevada Today. When students are unable to wear gang colors or symbols at school, tensions can be diffused.
Most students surveyed attested to not liking their uniforms, but many also reported feeling safer at school than they had before. The disciplinary benefits of uniforms are still there, even if students are resistant to the change.
Other Factors
According to the National Bureau of Economic Research, a University of Houston study looked at Los Angeles Unified School District schools that had instituted uniforms and identified that a new uniform policy can sometimes be concurrent with a new principal or administrator. In those cases, uniforms are probably not the only change those schools are undergoing. Other policies and proactive disciplinary measures may be contributing to student behavior. So it's impossible to attribute gains solely to school uniforms.
Photo Credits
Stockbyte/Stockbyte/Getty Images