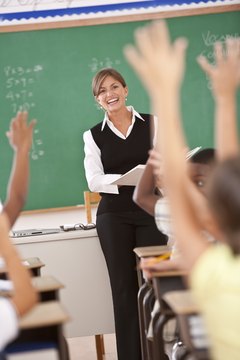 The education specialist degree prepares education professionals for roles as teacher leaders and administrators.
Professionals in the education field may need to pursue a higher degree in education to advance in their careers or maintain teaching certification. Some individuals who wish to earn a postgraduate degree in education may benefit from enrolling in an education specialist degree program. The requirements for completing an education specialist degree vary according to each higher education institution.
The Education Specialist Degree
The Education Specialist degree or Ed.S. is an advanced terminal degree primarily designed for education professionals who wish to take on leadership roles in K-12 education. It can also be used to satisfy teacher certification requirements in some states. Individuals can specialize in various areas of education, including curriculum and instruction, educational leadership, instructional technology, school counseling and school psychology. The education specialist degree is not designated as a research degree, and it is not classified the same as the doctor of education degree.
Admission Requirements
Most schools require individuals wishing to pursue an education specialist degree to have a confirmed master's degree from an accredited institution as well as experience in the education field. Some schools may also require a satisfactory score on the Graduate Record Examination or Miller Analogies Test, an acceptable cumulative grade point average from the student's master's degree, and letters of recommendation from individuals familiar with the student as a professional or academic. Requirements for admission vary from school to school, so the prospective student should research her desired educational institution's program requirements.
Course Work and Degree Requirements
Most schools present the education specialist degree as a 30 credit hour program. Course work in the program focuses on various areas of educational theory, research, and leadership. The program may include classes on school law, educational ethics, research and data analysis, curriculum theory, learning theory, assessment principles, and instructional design. Some schools may require students to complete a research thesis. This is similar to a master's thesis but not the same as a doctoral dissertation. Other schools may require an oral and written cumulative examination in addition to the thesis project.
Careers
Individuals who wish to become principals, superintendents, curriculum directors, and teacher leaders can benefit from earning an education specialist degree. Other career possibilities include assessment specialist, educational researcher, school administrator, program evaluator and teacher educator. Individuals wishing to pursue these and other education careers should verify the requirements of their state before enrolling in an education specialist degree program. Other educational or degree requirements may have to be satisfied according to state department of education regulations.
Photo Credits
Comstock Images/Comstock/Getty Images