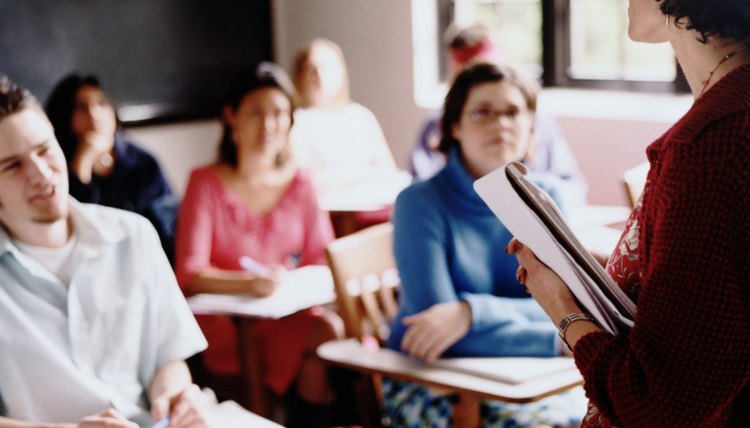 A Doctor of Education degree is usually awarded to a candidate who wishes to continue practicing in the education field.
The decision between an Ed.D. and a Ph.D. in the field of higher education centers around a simple question: What is the end goal? Traditionally, a Doctor of Education degree is recommended for someone who wants to continue to practice in the field of education, while a Doctor of Philosophy degree is recommended for those who wish to pursue scholarship or research at a university. Both degrees are marketable, but they cater to different fields.
Purpose
The Ed.D. in higher education and educational leadership was developed to meet the growing need for more practicing educators to hold a doctorate, according to Northern Illinois University. The degree challenges educational leaders, such as superintendents and curriculum leaders, to engage in higher-level education so they can take their knowledge back to their educational settings. However, those pursuing a Ph.D. intend to stay in higher education as researchers or teachers at educational institutions to theorize and extend knowledge of educational policy and practice, which can then be applied to school settings by other educators.
Emphasis
A student working toward an Ed.D. will be equipped to identify and solve problems in the real world of education. Thus, there is an emphasis on helping degree candidates focus on application of knowledge. These students will return to school districts or departments of education as administrators and will still work with K-12 students directly. In contrast, a Ph.D. candidate prepares to become a scholar or professional researcher. The emphasis is on theoretical knowledge, rather than application. Ph.D. programs place greater importance on policy and investigations.
Coursework
Both degree programs involve required classes, electives, research, internships or field work. The difference in focus affects how these requirements are met. For example, an Ed.D. candidate might complete more research with a focus on program evaluation or action research, where a Ph.D. candidate's research might look more at large-scale surveys related to educational policy. The Ed.D. candidate will likely have a field experience in school leadership, whereas a Ph.D. candidate will likely practice teaching college courses or present at conferences.
Culminating Activities
Both E.D. and Ph.D. programs will likely require some sort of written or oral examination, as well as a portfolio or a written dissertation. For example, the University of Denver states that both Ed.D. and Ph.D. candidates in higher education complete the same structure for their dissertations, but focus on different content. An Ed.D. candidate would choose an area of research that concerns a specific problem and may be centered on solving that problem, while a Ph.D. candidate might focus more on theoretical issues on a national scale than on only one localized problem.
Photo Credits
Ryan McVay/Digital Vision/Getty Images