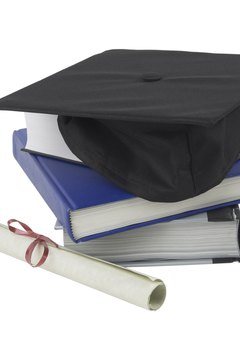 Most colleges and universities allow you to easily transfer your associates degree credits.
An associate degree is a great place to start when pursuing education after graduating from high school. If you have earned an associate degree from a community college, you have likely completed the core classes required for obtaining a Bachelor of Arts degree at a four year college or institution. While not every major is represented in an associate program, most community colleges offer several different degree choices that coincide with those at four-year colleges and universities.
Choosing The Right Bachelor of Arts Program
Successful completion of an associate degree program will make acceptance into a Bachelor of Arts program much easier since you've completed a bulk of the core classes needed to obtain your BA degree. If you've just earned your associate degree, sit down with your advisor or community college counselor to determine the most appropriate major that coincides with your associate degree. If you are going back to school, contact your desired school to speak to an advisor who can help you choose the correct major.
Checking Out Your Desired School
The admissions process at each four-year college or university varies, but most accept associate degree credits toward your chosen major. Depending on the number of credit hours you completed while earning your associate degree, you may even be accepted at junior level, meaning that if you remain on track you can graduate with a bachelor's degree in two years. Each college provides information on their website or on-campus regarding their application requirements.
Applying to School
Just as they would any incoming student, your chosen institution will request a copy of your associate degree transcript. Although each school is different, a certain number of hours will have to be completed in order for you to be considered an associate-to-bachelor transfer candidate. If you've earned your associate degree but have not completed the required number of hours, you will be required to earn those credit hours once you're accepted into a bachelor's program.
Earning Your Bachelor's Degree
If you've successfully applied to and been accepted into a four-year college or university, you will be assigned an academic advisor who will help you plot out a track and schedule classes to begin pursuing your Bachelor of Arts degree. Since a Bachelor of Arts degree focuses mostly on liberal arts general education courses, you may be required to take courses that were not offered at your community college. After successfully completing your course of study, you will earn a Bachelor of Arts degree in your chosen major.
Photo Credits
PhotoObjects.net/PhotoObjects.net/Getty Images