Both the TOEFL (Test of English as a Foreign Language) and the IELTS (International English Language Testing System) exams are used to assess the level of English language proficiency of applicants to universities and colleges in predominantly English-speaking countries such as the United States, Canada, Australia and the United Kingdom. They are also used to assess English speaking ability by institutions such as government agencies, licensing bodies, businesses and scholarship programs.
Difference in Format
The overall format of the tests is quite different, so knowing what type of learner and test taker you are will help you decide which test to take. The TOEFL is offered on paper and online -- the TOEFL iBT -- while the IELTS is paper based only. Both the TOEFL and the IELTS have four sections: reading, writing, speaking and listening. The IELTS takes two hours and 45 minutes, while the TOEFL is closer to four-and-a-half hours. The TOEFL offers multiple-choice questions on the reading and listening components of the test, while the IELTS is all based on recall, with open-ended questions. So the TOEFL may be better for abstract learners who need a prompt to recall stored information. Another difference in format is in the speaking section: IELTS test-takers speak face to face to a native English speaker while the TOEFL requires testers to answer six questions that you record into a microphone.
With the IELTS, you can choose from two options to take: the general and the academic. These have different reading and writing sections, highlighting a slightly different skill set for each environment.
Difference in Scoring and Administration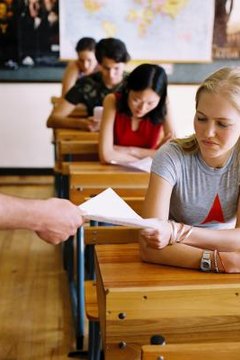 Test scores last for two years with both tests.
The scoring system between the two tests is quite different, with IELTS rating between 0 and 9, with halfway points in between. The average scores are in the 5- and 6-point range. TOEFL totals your scores from all the areas, with each worth up to 30 points. A good score is above 100.
This gives an insight into another key difference: who administers each test. TOEFL is administered by the Educational Testing Service, a nonprofit US-based organization, and conducts its test according to U.S. English. IELTS is administered jointly by the British Council, the University of Cambridge ESOL Examinations and IDP Education Australia, and conducts its test in U.K. English. While the differences are not very great, accents and spelling variations can cause slight problems for some students.
Who Accepts Which Test?
More than 8,500 colleges, agencies and other institutions in over 130 countries accept TOEFL scores. To see which if the institution you are interested in will accept your score, check here: http://www.ets.org/toefl/ibt/about/who_accepts_ scores. IELTS is accepted by more than 8,000 organizations worldwide in 135 countries at over 800 test centers. The cost of the TOEFL can range from $160 to $250, varying depending on the location of the test center, while the IELTS is $205 in the U.S. and slightly more or less in other countries.
Which Is Better for You?
Ostensibly, both tests measure the same thing: your ability to read, write, understand and speak the English language well enough to succeed in an academic or business setting in which English is spoken. However, which test you choose ultimately depends on where you will be using these skills. If the institution requiring your English proficiency is in the U.S. or former U.S. colonies, it's probably best to take the TOEFL, while in the U.K., Australia or other countries that use British English, the IELTS is recommended. If this factor isn't important, choose the test that is best for your learning capabilities and comfort level, depending on your preference for a longer, multiple-choice test or a shorter test that requires more memory recall.
Photo Credits
Digital Vision/Digital Vision/Getty Images