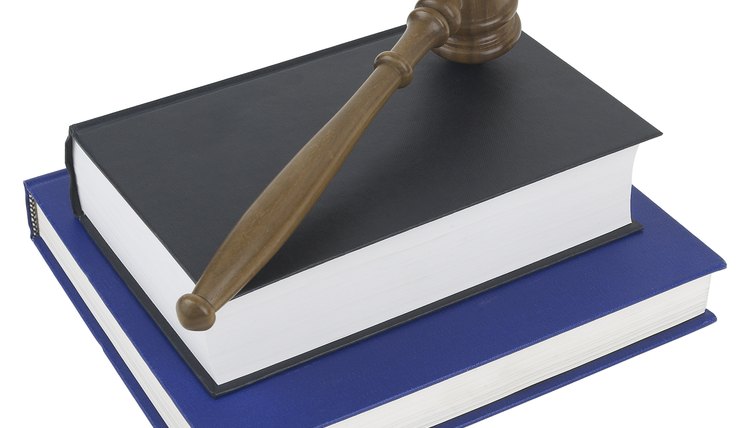 You can't get a master of law until you finish law school.
For most fields, a master's degree is something you can complete immediately after finishing your bachelor's degree. But in the academic study of the law, a master of laws degree -- often called an L.L.M. -- is reserved for people who have already completed law school and achieved a juris doctorate. When you finish law school, you can opt to pursue a specialized course of study to obtain a master of laws.
Prerequisites and Admissions
Both a J.D. and an L.L.M. require that you complete an undergraduate degree. Students pursuing a juris doctor degree don't have to choose a specific major, but they do have to take the Law School Admissions Test. When you apply for an L.L.M. program, however, you won't have to take an admissions test, but you must finish law school before you can begin the program. For both degrees, high grades can increase your likelihood of acceptance.
Time to Completion
If you attend law school full-time, you can expect to complete your degree in three years. An L.L.M. degree, by contrast, usually takes about a year, although you might have to spend additional time drafting a thesis or completing an independent study project. With both degrees, you have the option of delaying your graduation time by becoming a part-time student.
Specialization
A juris doctor degree is a general-purpose law degree that gives you the broad background in the law you'll need to pass the law and become a practicing attorney. A master of laws degree, however, is a specialized degree. While pursuing your L.L.M., you select a specialized area of study such as tax law, health care law, environmental law or wills and estates. Because an L.L.M. requires a J.D., however, you may touch on other areas of the law, and your courses will work on the assumption that you know the basics already.
Flexibility
A J.D. is a rigid field of study. During your first year of school, you'll take the same courses as every other law student -- legal writing, contracts, criminal law, civil procedure, torts and similar courses. Thereafter, you'll be able to choose from a number of electives, depending upon what your school offers. L.L.M. degrees, however, offer you the opportunity to choose from an array of fields of study and courses. The courses you take will vary significantly, depending upon the school you attend, and you'll have a significant degree of control over your schedule.
Photo Credits
Hemera Technologies/PhotoObjects.net/Getty Images