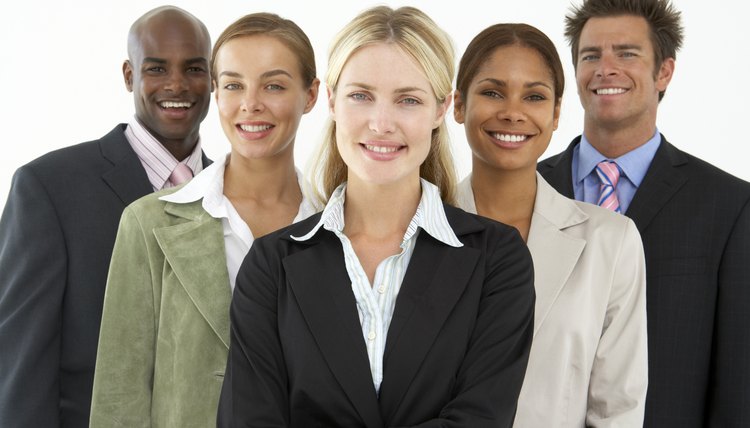 Executive MBA programs are designed for high-level managers.
As a result of increasing complexity and specialization in the economy, business schools around the United States now offer variations on the traditional MBA. Different schools use different terms, but in general a professional MBA is a part-time degree program designed for students with full-time jobs. An executive MBA is a program specifically designed to train students for executive-level management positions.
Career Stage
Professional and executive MBA students typically begin their studies at different points in their careers. Most professional MBA programs cater to students early on, while most executive MBA programs train mid-career professionals. At the University of Utah, for example, professional MBA students have an average of five years of work experience. Executive MBA students have an average 13 years of experience. This variance in work experience shapes the other elements of PMBA and EMBA programs.
Varied Schedules
Business schools understand that early and mid-career professionals have different scheduling needs. Many EMBA students take classes all day on Fridays and Saturdays, according to U.S. News and World Report. Their employers often allow them to work extra hours early in the week to make up the difference. The schedule also allows EMBA candidates to schedule business trips and still make it to class. Professional MBA programs usually hold classes on weekday evenings under the assumption that students have fewer responsibilities at work.
Admissions Requirements
Business schools have different admissions requirements for EMBA and PMBA programs. Specifically, EMBA programs usually look for work experience, while PMBA programs look for academic merit and potential. At Loyola University Chicago, EMBA students don't need to take the GMAT, but students have 14 years of work experience on average. Since PMBA students have less work experience, business schools tend to emphasize undergraduate grades and test scores in their admissions decisions. Thus, an applicant only one or two years removed from an undergraduate degree might be an appealing PMBA candidate, but would probably struggle in an EMBA program.
Curriculum Focus
As a general rule, EMBA programs require more classes focused on executive leadership and management skills, while PMBA programs focus more on technical skills. According to U.S. News and World Report, many EMBA programs emphasize leadership because motivating and managing employees is essential for upper-level executives. Students in PMBA programs usually focus on specialized business skills like finance or accounting. For early-career professionals, the big picture is usually less important than developing excellence in a particular specialization.
Photo Credits
BananaStock/BananaStock/Getty Images