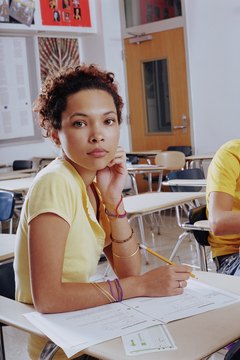 ACT tests are normally offered on select dates at area test locations.
The ACT and Compass tests are both administered by the American College Testing program. While both of these tests impact your college admission and education, the timing, nature, format and usage of the tests vary. Typically, a student completes one or the other, though a non-traditional student might end up taking both tests over time.
Timing
Students often take the ACT test during their junior or senior year of high school. This test is a common alternative to the SAT, though students may take both. The ACT test is often submitted with transcripts as part of a college admission application. The Compass test is more commonly taken either at the end of the senior year or during the summer before college as part of class planning.
Purpose
The complete ACT test is typically a tool used by college admission's departments to assess a student's application. Some colleges require a minimum composite ACT score or factor your score into the admission's decision. A minimum score of 68 on the four required elements of the ACT is also required by the NCAA for Division I or II college athletics' eligibility. However, the COMPASS test is intended to help the student and college collaborate on the best courses during the first year of school. Scores offer insights into a student's abilities in various academic areas, which allow for proper placement in remedial courses, if necessary.
Format
The ACT test includes English, Mathematics, Reading, Science and an optional Writing Test, according to the ACT website. The Compass test has the same components, but Compass testing may be given on anywhere from one to five areas. A student taking the ACT completes the entire test and receives individual scores and a composite score. Colleges may require students to take some or all of the Compass tests based on a review of transcripts and program admission policies.
Score Receipt and Follow-up
When you take the ACT, your scores generally arrive in the mail after a couple weeks. You can elect to have official copies of your score sent to the colleges that you have applied to or are considering. When you take the Compass test at a college test center, your scores print out immediately. This allows center staff to review your scores and make recommendations on scheduling for remedial or regular level courses in each area.
Photo Credits
Digital Vision/Digital Vision/Getty Images