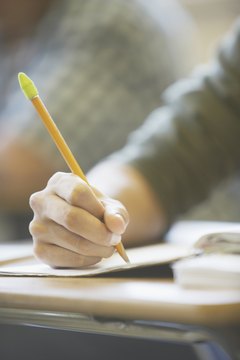 AP English Language and Literature classes both focus on improving students' writing skills.
Taking Advanced Placement courses is a good way for high-school students to increase the rigor of their curriculum and prepare themselves for college-level work. AP English Language and AP English Literature are both popular courses since they teach the critical reading and writing skills students need to be successful in college. Though both classes focus on these same critical skills, each has a unique focus, which is evident in the readings, coursework and AP exams.
Focus for the Course
Students will be doing a lot of reading and a lot of writing in either the AP English Language or the AP English Literature course. However, the focus of the AP English Language class is rhetorical criticism, while the focus of the AP English Literature class is literary criticism. Students in AP English Language read texts to analyze their rhetorical effectiveness, such as the strength of their argument, awareness of audience and purpose, and the use of supporting sources. Students use this understanding to create effective arguments of their own in their writing. Students in AP English Literature read texts to analyze their literary merits, using different theoretical models to better understand theme, character and other elements of the story.
Types of Readings
The texts that students read in each class varies considerably. In AP English Language, students read a variety of mostly nonfiction texts. Personal essays, speeches, biographies, satirical pieces, diaries, personal letters, sermons and histories are common texts. However, literature may also be included if it shows some social consciousness. Students in an AP Literature class will read a variety of texts from British and American authors from the 16th to the 21st century. Texts encompass a variety of genres, and they include works from canonical authors.
Writing Assignments
Students in both the AP English Language and the AP English Literature course can expect to do a lot of writing. However, the focus of the writing assignments will be slightly different. In the language class, students will focus on writing in different essay styles, such as persuasive, narrative and expository. The goal is to use the rhetorical devices they have learned and apply them to their own writing to construct a strong argument. In literature class, students writing analytical essays evaluating literary texts. They may do so within the frame of a literary theory, such as feminist or Marxist theory.
The AP Exams
Students who take either course must take the AP exam at the end of the year, and if they pass, they may be able to get college credit. The AP English Language exam has 54 multiple-choice questions, and the AP English Literature exam has 55 multiple-choice questions. Both exams have three free-response essay questions. On the AP English Language exam, the multiple-choice questions ask students to identify rhetorical strategies in reading passages, while the free-response questions ask them to analyze the argument presented in a passage. Multiple-choice and free-response questions on the AP English Literature exam ask students to analyze literary passages, answering questions about character, theme, symbolism, narrative devices and more.
Photo Credits
Jack Hollingsworth/Photodisc/Getty Images