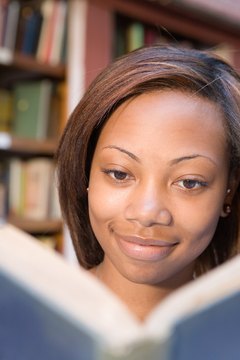 Literature teachers help students understand and evaluate a variety of texts.
Literature teachers help students understand and discuss classic and modern literature, and they also play an important role in developing the critical thinking skills of students. Each state has specific requirements for high school and postsecondary instructors, so you will need to explore your state's guidelines if you plan to pursue a career in teaching literature. However, having a general understanding of the education you need will help you make the first steps toward your goal.
High School
Teaching high school literature courses requires at least a bachelor's degree in literature. Some schools may also offer an emphasis in education that will give you an understanding of the fundamentals of teaching as well. Other states may require that you have a master's degree or higher to teach literature to high school students. In Oregon, a high school teacher must complete an undergraduate degree program in the subject she wishes to teach, such as literature, and a master of arts in teaching degree program, explains George Fox University. If you have a bachelor's degree and have researched or published extensively on aspects of literature, some states will allow this experience to qualify you in lieu of a master's degree.
Undergraduate
If you want to teach literature to undergraduate college students, you will typically need at least a master's degree in literature, if not a doctorate. In certain areas, such as with Maricopa Community Colleges in Arizona, you can teach literature if you have a master's degree in another field, but you will need to have earned a certain number of upper division or graduate credits in literature.
Graduate Programs
When you teach graduate level students, either those pursuing a master's degree or those in a doctoral program, you will usually need to have a doctorate yourself. If you have extensive experience or publishing credits in literature-based studies, you may have the opportunity to teach graduate courses with a master's degree. However, this will vary depending on the state, school and your particular background.
Certifications
Before you can teach at a high school level, most states require you to pass a credentialing test or other tests that measure your proficiency in your subject. As well, some states may require teachers in community colleges to have a special certification. Often referred to as a certificate in community college teaching, these programs prepare you to teach a variety of adult learners, from the traditional college student who just finished high school to the non-traditional students returning to school after many years. Depending on the state requirements, you will need to have either a bachelor's or a master's degree prior to entering these certification programs, or you can make the certification part of your degree.
Photo Credits
Jupiterimages/Photos.com/Getty Images