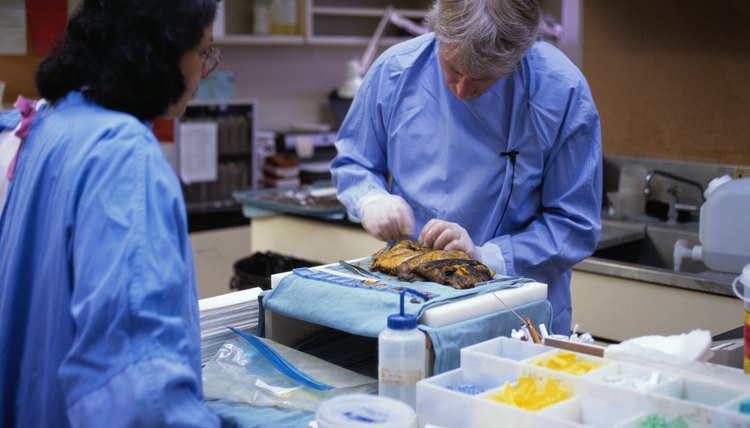 Coroners appoint medical examiners.
A medical examiner is a type of forensic pathologist and public official who investigates deaths due to unnatural causes. After earning a science-related undergraduate degree, an aspiring medical examiner attends medical school to earn a degree as a Medical Doctor or a Doctor of Osteopathic Medicine. The new doctor's education then continues during his years as a resident and fellow, where he receives specialized training and a certification in forensic pathology.
Bachelor's Degree
Before you can go to medical school to become a medical examiner, you have to earn a four-year undergraduate degree. The best type of degree to earn is one from an accredited university that fulfills the prerequisites to apply for an accredited medical school. In 2013, the Harvard Medical School's website states on the "Application Requirements" page that you must complete two years of chemistry classes with labs and at least one year of biology with laboratory experience, physics and math, including calculus-based physics. You should take at least 16 credit hours of social sciences, art, humanities, language and literature classes. Use your undergraduate courses to prepare you for the Medical College Admissions Test (MCAT), which you need to pass to go to medical school.
Medical School
You will need to go to medical school and earn a Doctor of Medicine, or M.D., or a Doctor of Osteopathy, or D.O., degree. In the first year of medical school, you'll study the basics of being a physician, genetics, anatomy, medical ethics and the role of medicine in the community. In the second year, the courses give in-depth information about human development and systems, psychopathology, psychiatry and working with patients. During your third year, you gain clinical experience in specialties like surgery, general medicine, neurology and psychiatry. Because you want to be a medical examiner, look for a medical school that offers a clinical experience clerkship rotation in pathology. In the last year of medical school, you'll learn more about your clinical elective, pathology, through various courses and hands-on training. After you graduate from medical school, get your state medical license.
Residency
When you graduate from medical school, you have an M.D. degree and license, but not a certification to practice as a medical examiner. To be eligible for that certification, you need to complete a residency program in anatomic and forensic pathology. A residency program is like paid training. You'll learn how to perform diagnostic procedures like autopsies and biopsies. Since you want to work as a medical examiner, choose a subspecialty in forensic pathology. After you complete your residency, you must pass the forensic pathology exam by the American Board of Pathology.
Fellowship
After earning a certificate to work as a medical examiner, the last educational step is to complete a pathology fellowship. During this time, you'll work with a medical school's pathology department, conduct research, prepare specimens and perform autopsies. You'll also receive opportunities to present cases during conferences, attend lectures and teach. A fellowship gives you real-world experience that will prepare you to work in a coroner's office.
Photo Credits
Keith Brofsky/Stockbyte/Getty Images