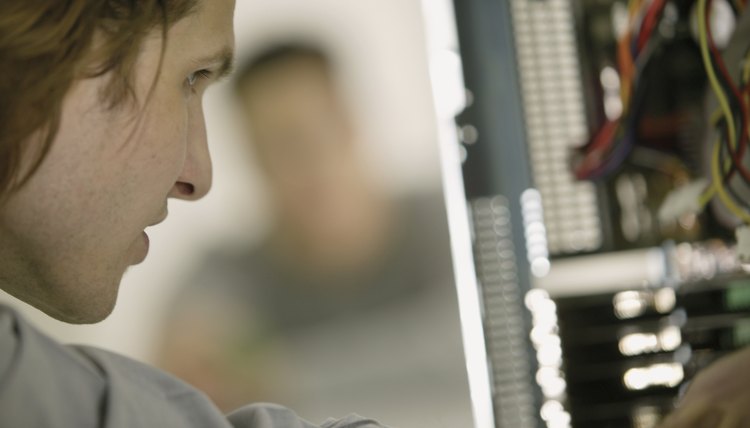 Software engineers will take courses in computer systems management.
According to the U.S. Bureau of Labor Statistics, the job outlook for computer software engineers is growing at a rate much faster than the national average for jobs, at over 30 percent between 2010 and 2020. The median pay for software engineers as of 2010 was over $90,000 per year. To get from high school into one of these lucrative jobs, there a few different paths.
Software Engineering Degree
Many colleges and universities have specific software engineering degrees, often as part of the department of computer science within the faculty of science. These courses will prepare you for a job in computer sciences and software engineering and focus specifically on the skills you'll need to become a software engineer, with courses in math, algorithms, logic, information systems, computer systems and security.
Other Bachelor's Degrees
According to the BLS, a computer engineering degree isn't mandatory when seeking employment in the field. You can also take classes in mathematics and graduate as a math major to become a software engineer. The BLS outlines the key qualities that employers seek in a software engineer as follows: analytical skills, communication skills, creativity, customer-service skills, attention to detail, problem-solving skills, teamwork and technical skills. Any university classes that highlight or refine these skills will help you in finding employment.
Computing Courses
All computer software engineering programs have their own distinct approaches to teaching the skills you'll need, but no B.S. in computer engineering will be complete without a slew of mandatory computing classes. At the University of Southern California, for example, these include software management, two credits in software engineering, software architecture, analysis of algorithms and advanced courses in databases, operating systems and parallel programming. The required courses and electives will vary by college, so check with an academic planner for the specifics of your computer science degree.
Internships and Placements
Most computer software engineering programs -- and, indeed, most computer programs -- in the U.S. involve workplace placement or internship to provide you with practical experience in a professional setting. According to the BLS and Colorado State University, employers are eager to see that students have practical workplace experience during their studies. For a better chance to find work after graduation, consider programs that have placement opportunities.
2016 Salary Information for Software Developers
Software developers earned a median annual salary of $102,370 in 2016, according to the U.S. Bureau of Labor Statistics. On the low end, software developers earned a 25th percentile salary of $78,570, meaning 75 percent earned more than this amount. The 75th percentile salary is $129,310, meaning 25 percent earn more. In 2016, 1,256,300 people were employed in the U.S. as software developers.
Photo Credits
Comstock/Comstock/Getty Images