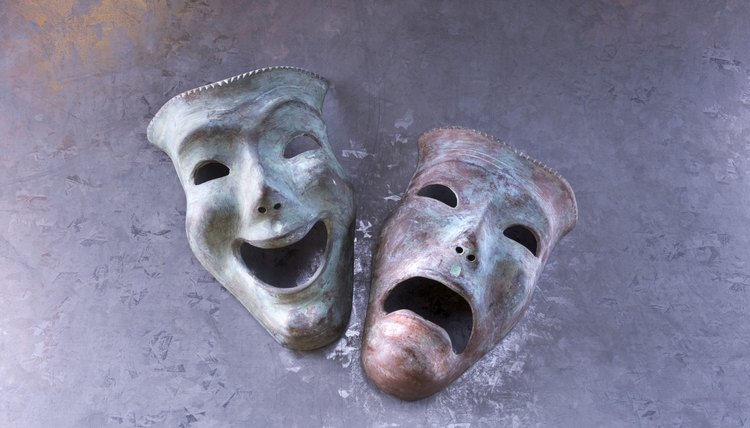 The best colleges for theater majors can help propel acting careers.
A comprehensive and thorough education can make all the difference for a theater major looking for his or her big break in a competitive field with limited opportunities. "The Hollywood Reporter" magazine ranked the top drama schools in America based on which are the best at launching professional acting careers, while "The Princeton Review" polled students on which schools have the best theater, facilities and learning environment.
Private Undergraduate Schools
Carnegie Mellon University offers multiple Bachelor of Fine Arts degrees. Emmy award winner Ted Danson credits the program for his career success. Muhlenberg College made "The Princeton Review" list due to its excellent facilities, including two large proscenium stages, two studio theaters, six dance and acting studios, a rehearsal house facility, modern production facilities, shops for costumes, scenery, design computing equipment, a Pilates study and a video editing studio. Muhlenberg offers a Bachelor of Arts degree in theater. Northwestern University's School of Communication offers a prestigious undergraduate degree in theater and Master of Fine Arts degrees in directing, stage design and writing.
Public Undergraduate Schools
Purchase College in the State University of New York system offers proximity to New York City and its four-theater Performing Arts Center is the major professional nonprofit arts facility in the southeastern New York, southwestern Connecticut region. SUNY-Purchase topped "The Princeton Review" list in 2012. The school offers a Bachelor of Fine Arts in acting as well as a Bachelor of Arts in Theatre and Performance. The acting BFA program at Rutgers University accepts 9 percent of applicants, who spend their third year at Shakespeare's Globe Theatre in London, according to "The Hollywood Reporter."
Private Graduate Schools
The Yale School of Drama is among the most prestigious drama programs in the world. The school offers a Master of Fine Arts in many drama subcategories, including acting, dramaturgy and production, as well as a Doctor of Fine Arts in dramaturgy and dramatic criticism. The Yale Repertory Theatre was one of the first resident theaters to regularly present original plays. The Tisch School of the Arts at New York University gives students an opportunity to tap into the culture of New York's Greenwich Village, a longtime haven for artists and intellectuals. The school offers a rigorous three-year MFA program with the primary aim of preparing students to become professional actors.
Public Graduate Schools
The University of California at Los Angeles School of Theater, Film and Television is at the heart of the entertainment industry, where students can take advantage of networking opportunities unavailable elsewhere. The school offers several MFA degrees, including a three-year program in acting as well as an MA in theater. Indiana University offers an MFA in acting, directing, playwriting or design, and a doctorate in theater. Indiana did not make "The Hollywood Reporter" list, but was ranked in the top 10 by "The Princeton Review."
Photo Credits
Thinkstock/Comstock/Getty Images