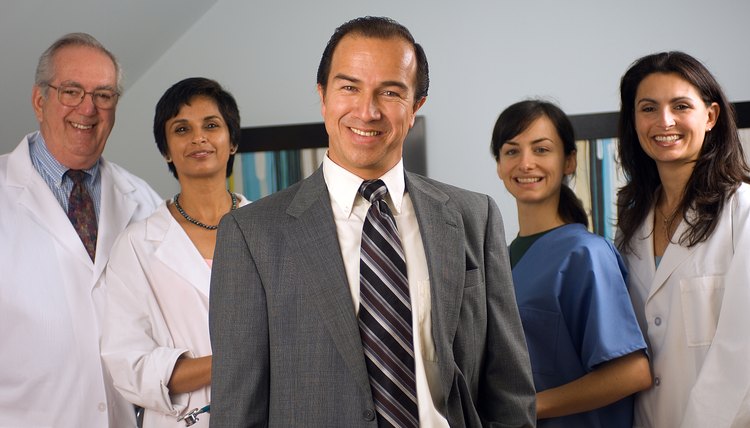 Institutions offering a graduate degree in health care management train students to work in a variety of health care settings.
Health care is the largest industry in the nation, responsible for employing millions of people across the U.S. Students studying health care management are trained to manage medical and health services. Master's degree programs in health care management prepare students to secure employment in various professional environments including hospitals, rehabilitation centers, clinics, physician offices and consulting firms. Scholars interested in studying health care management should seek reputable academic degree programs to build a solid foundation for successful careers in the field.
Ivy League Institutions
The University of Pennsylvania offers a Master of Business Administration in healthcare management. Students pursuing a degree in health care management at the university are exposed to courses related to business, management and policy of health care services, health care technology and health care financing.
The Master of Public Health degree in health care management at Yale University requires students to complete 20 course units to satisfy graduation requirements. Yale's health care management curriculum integrates management and public health classes resulting in coursework highlighting such topics as managing health organizations and health policy and health systems.
Public Institutions
The Master of Health Administration degree at Georgia Southern University requires completion of 45 credit-hours of coursework. Designed to develop leaders who possess a high level of professionalism regarding health care service delivery, coursework involves content associated with health law and health economics and policy.
Students can earn a Master of Health Care Administration degree at the University of Nevada Las Vegas. The 45 credit-hour program is the only degree of its kind in the Nevada Public University System. The health care admission curriculum addresses issues connected to health care finance, health care delivery and ethical and legal problems in health care administration.
Private Institutions
Marymount University in Arlington, Virginia, provides students with the opportunity to earn a Master of Science degree in health care management. Marymount also offers dual degrees, Master of Science in health care management/Master of Business Administration and Master of Science in health care management/Master of Science in information technology. Due to the institution's close proximity to Washington, D.C., the curriculum places significant emphasis on national health care policies.
In the 2011 edition of the "U.S. News & World Report," Saint Louis University ranked among the top ten universities in the nation for health care management. The university offers a 60 credit hour Master of Health Administration degree. A wide variety of course options are available including strategic management in health and health care marketing.
Online Institutions
Southern New Hampshire University offers an online Master of Business Administration degree in health care management. The 39 credit-hour graduate degree program can be completed in as few as 18 months.
The University of Texas at Tyler also allows students to earn a Master of Business Administration with a specialization in health care management. Students can earn the 36 credit-hour master's degree in as little as one year.
Photo Credits
Jupiterimages/Photos.com/Getty Images