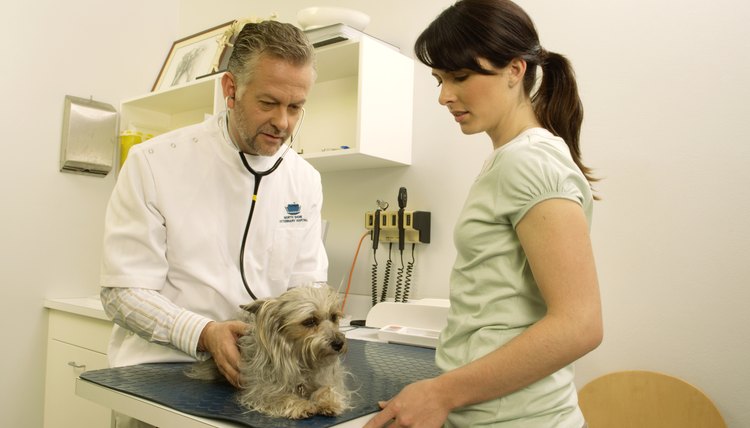 Undergraduate vet-prep programs may include hands-on experience.
To become a veterinarian, you need to earn at Doctor of Veterinary Medicine from a veterinary school. Though no specific undergraduate major is required to get into veterinary school, you do have to complete certain prerequisites, such as anatomy, chemistry and biology, and admissions are competitive. Completing a pre-veterinary program as an undergraduate may improve your chances of getting into a top veterinary school. There are many excellent options in and near Ohio.
Ohio Programs
Students at Bowling Green State University in Bowling Green have the opportunity to complete a pre-vet program to meet the requirements for attending vet school. The pre-vet program is not a major. It is a curriculum plan that assures that students take the courses to make their application to veterinary school more competitive. Academic advisers work with students to select courses to meet veterinary school prerequisites and to complete the requirements for a major at BGSU. Wright State University in Dayton offers a similar program that includes advising to prepare students for veterinary school. The typical curriculum recommended to students includes one year of general biology, general chemistry, organic chemistry, biochemistry and physics, one semester of psychology, genetics, microbiology and math, and one year of English.
Schools in Indiana
The University of Indianapolis offers pre-professional majors in the health sciences, including veterinary medicine. Students are match with a faculty adviser, who helps them to devise curriculum plan and to choose the appropriate major. The actual major may be biology, chemistry or the like, but students take courses that prepare them for their veterinary study while also completing the requirements for the major. Wabash College in Crawfordsville says that 84 percent of its seniors who apply to professional schools are accepted as a result of its preparatory programs. Pre-veterinary students work with an adviser to prepare for the GRE and to take all the courses that will increase their chances of getting into veterinary school.
Kentucky Programs
At Northern Kentucky University in Highland Heights, students can complete a pre-veterinary medicine program. The school works in partnership with Auburn University and Tuskegee Institute in Alabama to prepare students for their veterinary programs. Students in the pre-veterinary program major in chemistry and then work together with an adviser to take the classes that will not only fulfill the prerequisites for veterinary school but will also prepare them for the rigor of veterinary study. At the University of Kentucky in Lexington, students complete a pre-professional program in veterinary science and can major in animal science, biosystems or a related field. The program also includes experience in veterinary care with local veterinarians, animal shelters, dog shows and livestock exhibitions.
Other Programs
Students at West Virginia University in Morgantown can complete a bachelor's degree in Animal and Nutritional Sciences, which prepares them to apply for veterinary school. The major doubles as a pre-professional program, so it includes prerequisite courses such as biology, chemistry and physics in addition to courses in animal nutrition, pathology and animal breeding. At Michigan State University in East Lansing, students can complete a bachelor's degree in veterinary technology, which can prepare them for immediate work as a veterinary technician or to apply for veterinary school. The curriculum includes the prerequisite courses for many veterinary schools, as well as advanced coursework in veterinary medicine
Photo Credits
Dean Golja/Digital Vision/Getty Images