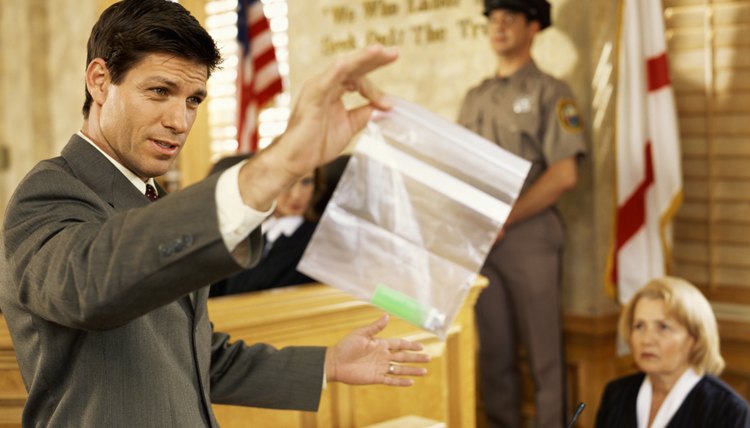 Students of forensic science are taught how to prepare evidence for trial.
Forensic scientists may not be able to explain why a crime was committed, but they are experts in gathering information to determine the who, what, when and where of the matter. Students of forensic science study a broad range of disciplines, including chemistry, biology, textiles, anthropology, math and speech. Three North Carolina colleges currently offer forensic science bachelor's degree programs, and one major university is in the process of building its forensic science program.
Fayetteville State University
Fayetteville State University offers two paths toward a bachelor of science in forensic science: Students choose a concentration in chemistry or biology. Among the learning outcomes listed for both paths is an understanding of the ethics of the forensic science profession and the ability to communicate knowledge of forensics both orally and in written form. Forensic science degree candidates must complete at least 18 credits in the university's core curriculum with a minimum 2.5 GPA to gain admittance into the forensic science program. The school reports a 55 percent acceptance rate.
St. Andrews University
The forensic science program at St. Andrews University, Laurinburg, includes courses in law, courtroom procedures, public speaking and expert testimony. Former and current students have interned at the North Carolina State Bureau of Investigation and the Federal Bureau of Investigation. The Bachelor of Science in forensic science offers a chemistry and psychology track. Among the courses shared by both tracks are physics, microanalysis of trace evidence and crime scene investigation and evidence collection. St. Andrews' acceptance rate is 69 percent, and the school indicates that recommendations are an important component of the selection process.
Western Carolina University
Western Carolina University in Cullowhee offers a forensic science program that emphasizes science and mathematics disciplines. The program is designed to prepare students for careers in crime laboratories. Its curriculum was established by former Federal Bureau of Investigations agent Dr. Mark Wilson. The degree program offers concentrations in biology and chemistry. Freshman and sophomores are considered pre-forensic science majors. They must complete a core science curriculum with a GPA of 2.75 or higher and achieve an entrance exam score of at least 70 percent before being considered for acceptance into the forensic science bachelor's degree program. The university is very selective, with an acceptance rate of 38 percent.
North Carolina State University
The Forensics Science Institute at North Carolina State University in Raleigh is an emerging forensics program that currently offers a 15-credit hour, certified minor in forensic science. The program includes courses in forensic anthropology, forensic geology and environmental forensics. The school also offers graduate courses in forensic anthropology and professional practices in forensic science. The university's stated goal is to be the first school in North Carolina to offer a master's degree in forensic science. The school reports a 50 percent acceptance rate, and state residency is a consideration.
Photo Credits
Stockbyte/Stockbyte/Getty Images