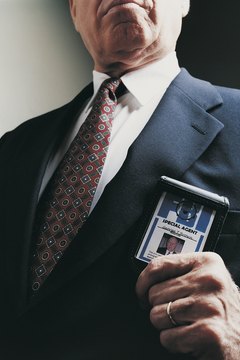 When hired, an FBI agent must be between 23 and 36 years old.
The Federal Bureau of Investigation employs special agents to enforce federal law and investigate national security issues. Its agents investigate white collar crime, civil rights violations, bank robbery, kidnapping, extortion and terrorism. Successful applicants have to meet very strict requirements for age, work history, physical fitness, drug use and police records. A four-year degree from an accredited college or university is also necessary, and each of the five special agent entry programs has a specific educational prerequisite.
Accounting
Within the accounting field, a special agent could work as an investigator in several areas, such as organized crime, public corruption, interstate criminal activity or drug-related crime. Unless an applicant has been employed as a certified public accountant, a four-year accounting degree is required, followed by three years in a private or government professional accounting position.
Computer Science
A specialist in computer science or information technology would have many opportunities in the FBI, including counterintelligence, counterterrorism and cyber crime. There are several possible educational paths. You can have a four-year degree in computer science, information technology or electrical engineering. A bachelor of science or bachelor of arts in any field is acceptable if you also have Cisco Certified Network Professional certification or Cisco Certified Internetworking Expert certification. These certifications are achieved through a commercial examination process; the company's training course is recommended for test preparation.
Language
With a language focus, a special agent might gather intelligence or combat terrorism. You can apply if you are proficient in a foreign language, but you must also have a B.A. or B.S. in any area. Linguistic ability is assessed through the Defense Language Proficiency Test and Speaking Proficiency Test. The FBI is particularly interested in specific languages, such as Farsi, Hebrew, Russian and Korean, but these preferences can change over time.
Law
Since the FBI is a law enforcement agency, legal specialists are needed in all divisions. For example, a special agent might focus on Internet crimes, criminal investigations, fugitive matters or national security. Anyone interested in this field must have a juris doctorate from an accredited university. In addition, law enforcement specialists may be hired if they have a four-year degree and at least two years working full-time as a criminal investigator.
Diversified
The diversified program allows people who do not have the required degrees in accounting, computers, language or law to apply to the FBI. There are few openings in this program. To be considered, you need a B.A. or B.S. in any discipline, followed by three years of work experience. However, if you have an advanced degree, you may be eligible with only two years of professional experience.
Resources
Photo Credits
Digital Vision./Photodisc/Getty Images