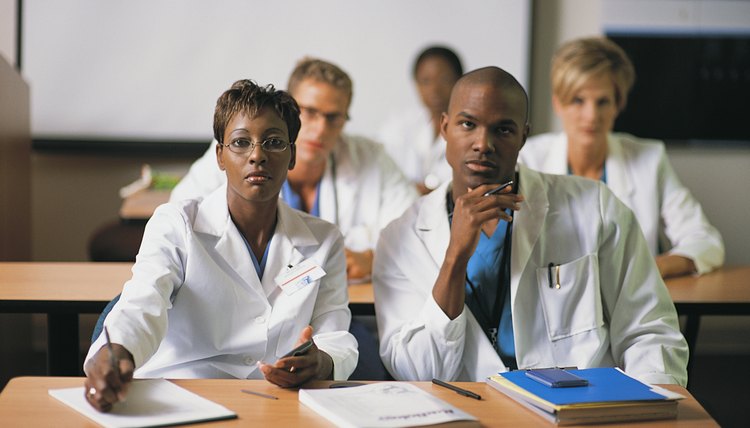 Future doctors must go through at least eight years of higher education.
Medical doctors, or physicians, diagnose and treat illnesses and injuries and also practice preventative health care. Some doctors work as family doctors or general practitioners and practice whole body care. Others are specialists who handle specific age groups such as children, bodily systems such as the heart, or medical techniques such as surgery. All medical doctors, regardless of practice area, must complete a challenging series of educational programs.
Undergraduate Education
Future medical doctors must start with a bachelor's degree in most cases. At the undergraduate level, future physicians should focus on advanced courses in the sciences. Some colleges offer a pre-med major, but most science majors are sufficient for meeting medical school admission requirements. Students should be prepared to take advanced courses in chemistry, biology, and physics. Courses in organic chemistry, microbiology, anatomy, physiology, genetics, and biochemistry are highly recommended. Medical schools also like to ensure that their future students are well-rounded, so courses in the humanities, arts, social sciences and technology are also beneficial.
Medical School Years One and Two
After completing the bachelor's degree and gaining admittance into medical school, future doctors can expect to spend their first two years of medical school taking even more advanced science courses such as gross anatomy, histology, pathology, and biochemistry. During year two, students also typically study diseases. Near the end of year two, medical students are required to take the first part of their medical licensing exam. If they pass, they can move on to years three and four.
Medical School Years Three and Four
During the second half of medical school, the focus shifts to a combination of advanced courses and hands-on clinical experiences. Students have more opportunities to study specific medical specialties during these two years. These are called clinical rotations. Each rotation consists of working in a clinical specialty such as internal medicine, pediatrics or cardiology. In year four, the specialization continues even more. By getting exposure to each medical specialty, medical students can figure out what areas they like and what areas they excel in. At the end of the fourth year, students take the second part of the licensing exam. If they pass, they can go on to do their residency.
Residency
By this time, the student should be ready to specialize in their medical careers. The residency is the medical student's first job as a real doctor, but it still requires more learning. Residents work under the direct supervision of experienced doctors. While they are not technically in a classroom environment any longer, this is usually the final -- or near final -- step in the doctor's training. Some specialists also do fellowships after their residencies, which is even more detailed training under the supervision of other specialist doctors.
Photo Credits
Comstock/Comstock/Getty Images