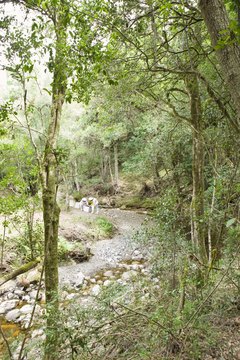 The Bureau of Labor Statistics predicts park ranger employment will grow slowly.
Park rangers aren't really goofballs like Ranger Smith in the Yogi Bear cartoons. A typical park ranger has a Bachelor of Science degree in Forestry or a closely related field. Master and doctoral level degrees are available but not required. To ensure top-quality education, prospective students should be certain that professional organizations such as the Society of American Foresters or the Society for Range Management have accredited the programs under consideration.
Forestry
An undergraduate program in forestry teaches students how to manage wilderness resources. In addition to standard undergraduate mathematics, science and liberal arts classes, forestry students explore a wide range of outdoors topics. They learn how to protect resources with courses in ecology, forest development, diseases and fire control. Classes in ecosystems and wildlife cover plants, animals and their interdependent relationships. Toward the end of the program, students obtain hands-on experience collecting data and managing resources.
Rangeland Management
A bachelor's degree in rangeland management focuses on restoring and conserving a variety of natural environments, including forests, grasslands and deserts. Students learn about the plants, animals and geology of these areas, as well as how these elements fit together. Authentic experiences are also included in the major, so students participate in research studies, work in lab settings, go on field trips and have opportunities for summer internships. Related fields such as watershed management, recreation, wildlife management and agricultural economics are often part of the curriculum.
Environmental Science
Students studying for a bachelor's in environmental science have many opportunities to participate in lab work. They are trained to collect data in the environment, analyze conditions and develop interventions, if necessary. Biology, chemistry and geology are core components of the program, and they are taught with a focus on the environment. Other classes include environmental law, toxicology, statistics and ecology. Since environmental science is a multidisciplinary field, students often work in teams to solve real-world problems.
Agricultural Science
An agricultural science program covers animals, soils, plants, systems and economics. Sustainability is a relatively new addition to the field. All programs have a practical aspect that involves working with plants and livestock. Some schools include teaching certification as part of the program. This prepares students to work with a range of people interested in agriculture including children, teens and professionals. The agricultural science major also appeals to individuals interested in a career in agriculture, such as farm or ranch managers.
Photo Credits
Jupiterimages/BananaStock/Getty Images