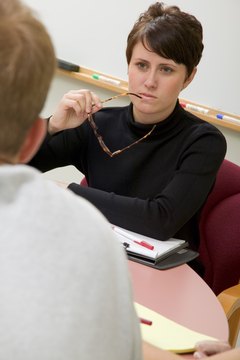 Social workers must possess either a bachelor's degree or a master's degree to practice their trade.
For people seeking to help their fellow humans, pursuing a career in social work might be just the answer to that calling. Social workers usually need a degree in social work, and there are two kinds of degrees available: a bachelor's degree or a master's degree. Each comes with its own specific course requirements.
Social Work
According to the Bureau of Labor Statistics, social workers are broken down into two categories: direct-service social workers, who help people deal with problems they encounter in everyday life, and clinical social workers, who treat people with "mental, behavioral, and emotional issues." If you're pursuing a job as a direct-service social worker, you will need a bachelor's degree, while clinical social workers are required to have a master's degree. Clinical social workers are also required to be licensed, though exact requirements vary by state.
Bachelor's Courses
If you are pursuing a bachelor's of social work degree, expect a rigorous four-year commitment. A typical program, such as the one at Azusa Pacific University, requires between 71 and 79 credits in addition to general studies requirements. Classes range from general biology and psychology classes to numerous courses that deal with every aspect of social work. Students will take courses such as "Introduction to Social Work" and "Social Work Practice 1." These classes are similar to ones offered by Seattle University, which requires such courses as "Human Development and Social Work" and "Social Work Research." While it would be impractical to list every course required, social work programs as a whole are designed to give students a comprehensive understanding of the history and best practices of the field. Also typical is a field research or internship requirement, often totaling hundreds of hours.
Master's Courses
Master's degree programs are for people who want to become experts within the field of social work. Courses at schools such as New York University and Tulane University focus on finding a balance between intense classroom study and experience in the field. In your first year, you might take classes such as "Clinical Practice with Groups" or "Social Welfare Programs and Policies," then move on to field work with "Advanced Concentration-Field Learning" in your second year.
Licenses And Credentials
After completing your schooling, you must become licensed by your state if you are a clinical social worker. According to the Bureau of Labor Statistics, specific requirements vary state to state, but all states require their clinical social workers to carry some kind of license. License requirements for direct service social workers vary by state. After achieving a license, many social workers will want to gain a specific credential that, according to the National Association of Social Workers, "denotes professional commitment and achievement." Credentials can be obtained in areas such as leadership, youth and family, addictions and gerontology, among others. Credentials can be achieved by working with the NASW.
Photo Credits
Jupiterimages/liquidlibrary/Getty Images