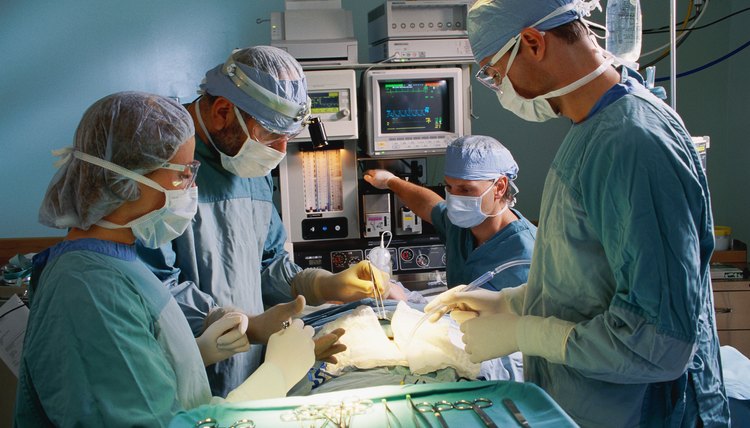 Certified registered nurse anesthetists administer anesthesia during surgery.
In addition to their role providing anesthesia to patients in hospitals, Certified Registered Nurse Anesthetists work as the primary anesthesia provider in many rural settings and throughout the military. Admission to a CRNA program is highly competitive and requires a bachelor's degree in nursing, clinical experience and state licensing. Even students who have bachelor's degrees must fulfill all of the course prerequisites before applying to the program.
Statistics and Physics
Most nurse anesthetist programs require that applicants take at least one semester in statistics or another course that emphasizes statistical analysis in a research setting. This requirement not only ensures that the student will be able to manage the master's curriculum, but also helps them gain a familiarity with statistical analysis that is necessary to read and understand many professional publications in the field. Some programs also require at least one semester of physics, though the lab component may not be necessary.
Chemistry
Before applying to a nurse anesthetist program, students should have completed courses in chemistry. These courses are essential for practicing nurses who have to manage and administer solutions of pharmaceuticals as well as perform diagnostic tests on the patient. Most programs require a combination of organic and inorganic chemistry, but they may not need to be taken in separate semester courses. Lab work in chemistry is generally not required.
Anatomy and Physiology
Courses in anatomy and physiology provide a foundation for understanding the human body, its processes and how it is affected by drugs. These classes go through all of the systems of the body from cell biology to the skeletal system as well as the common malfunctions and diseases of these systems. Most bachelor's programs in nursing require these classes, but if the student earned their bachelor's degree more than five years before applying to the nurse anesthetist program, they may need to retake these courses.
Pharmacology
For nurse anesthetists, the primary element of the job entails administering complex and dangerous drugs to patients in a surgical setting. As a result, a strong background in pharmacology is essential before beginning the program. Pharmacology courses may be electives in many nursing bachelor's degrees, so some additional coursework in areas like drug dosage calculations and central nervous system, autonomic and cardiovascular drugs may be required prior to admission to a nurse anesthetist degree program.
Photo Credits
Stockbyte/Stockbyte/Getty Images