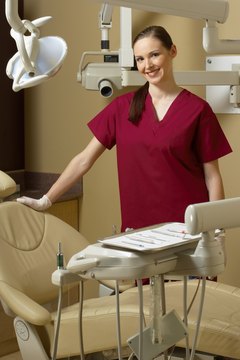 Dental assistants manage tools and patient records during a procedure.
Dental assistants do everything from managing patient records to providing assistance during treatment. According to the U.S. Bureau of Labor Statistics, some dental assistants can get their start through on-the-job training, but many states are now requiring that dental assistants graduate from an accredited program and pass a licensing exam. Formal degree, diploma or certificate programs include classes that teach both the theoretical knowledge and hands-on skills that dental assistants will need, from anatomy and physiology to record keeping.
Anatomy and Physiology
While dental assistants may not be responsible for advanced procedures, they do need to have a basic level of knowledge about dental anatomy and physiology. All dental assistant programs include at least one class on anatomy and physiology, often with a focus specifically on dental anatomy and physiology. The focus is often on terminology that dental assistants are likely to encounter on the job.
Dental Procedures
Lab work and hands-on training are a big part of a dental assistant program. Many classes focus on dental procedures, such as dental equipment use and care, dental materials, fundamentals of dentistry and chairside assisting. Besides training students how to assist during dental procedures, these classes also go over pathology and infection control. These courses are perhaps the most important for dental assistants, as they teach not only the practical skills for the day-to-day responsibilities of the job, but they also help assistants ensure that they are protecting patient safety.
Radiology
Dental assistants frequently take of X-rays of patients' teeth and gums for cleanings, to monitor the progression of cavities or bone loss, and for diagnosing disease. Courses in radiology help students understand how to take and read dental X-rays. Dental assistants will not be responsible for diagnosis, but they should be able to read an X-ray and to provide information about it.
Office Management
Much of the work of a dental assistant includes managing patient records, making appointments, submitting insurance paperwork and other logistical tasks. Common courses include office administration, computer basics, Occupational Safety & Health Administration laws and interpersonal communications. Assistants must know how to use the computer equipment and software, how to handle records with confidentiality, and how to interact with patients in a friendly, professional manner.
Photo Credits
Jupiterimages/Photos.com/Getty Images