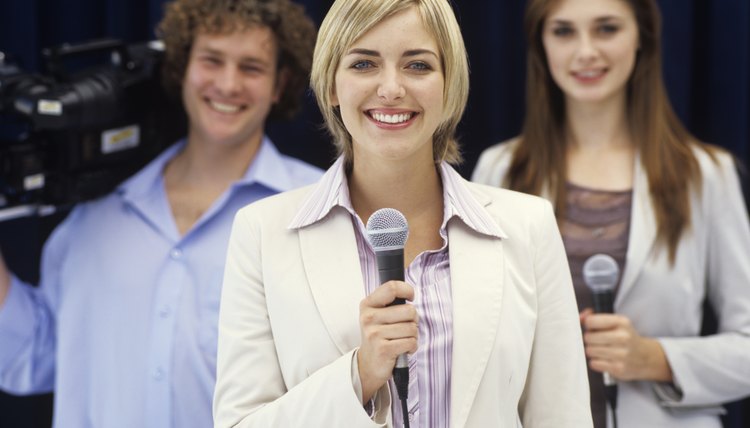 Journalists study specific media topics plus broader liberal arts subjects.
More targeted than an English major but less precise than engineering, studying to become a journalist requires a blend of learning the specifics of mass media production with a broad understanding of the world at large. Journalism students combine a focused succession of writing and media intensive classes with a sampler of arts and sciences courses to best prepare for reporting careers. With this mix, students should feel confident in having received the best training possible to establish themselves as communications professionals.
Writing
Major journalism schools have students take niche-oriented writing classes. These courses teach the student first how to write using the information-oriented journalistic style followed by instruction in writing specifically for a selected medium. For example, students at Syracuse University's S.I. Newhouse School of Public Communication start with Practical Grammar for Public Communications and Multi-Media Storytelling. As they continue into their journalism specialty, newspaper and online media students enroll in Newswriting, Reporting and finally Advanced Reporting, while those on the broadcast and digital media track take Broadcast and Digital News Writing, Radio and Digital Audio News Reporting and Television and Digital News Reporting.
Journalism Concentration
Many journalism programs provide an opportunity for students to pick a branch within the field to specialize in. Most common are broadcast journalism, including television and radio production, print, magazine, online and photojournalism. Students learn what sets each subset apart from shooting and editing video footage as a broadcast major to writing in-depth investigative feature articles for newspaper concentrators. At some schools, like Boston University's College of Communication, students can enroll in elective courses such as sports or political reporting to introduce them to specific roles within the larger journalism platform.
Media Law and Ethics
Syracuse University requires all communications students to take Communications Law for Journalists, while both Northwestern University's Medill School and Boston University teach Media Law and Ethics. For a new journalist, understanding laws regarding copyrights, libel and intellectual property as well as contempt and defamation draws boundaries for professional conduct. In addition, journalists hold the power of the press in dictating the direction of the public debate. However, stretching that authority to tell an audience "what to think" instead of "what to think about" is considered an abuse, and journalism students are taught to shoulder responsibilities seriously and conduct themselves appropriately.
Liberal Arts
Journalists are expected to be well rounded and possess an expansive world view. To that end, journalism majors often complete a large number of classes outside their major. Typically, students select classes across the social sciences, such as sociology, psychology or international relations for example, physical sciences and mathematics, English, philosophy/religion and more. Students interested in one particular subject area can use these liberal arts requirements to pursue classes in a field of interest, such as political science for government reporters or economics for finance reporters, and might be able to achieve a minor in the subject as well.
Photo Credits
George Doyle/Stockbyte/Getty Images