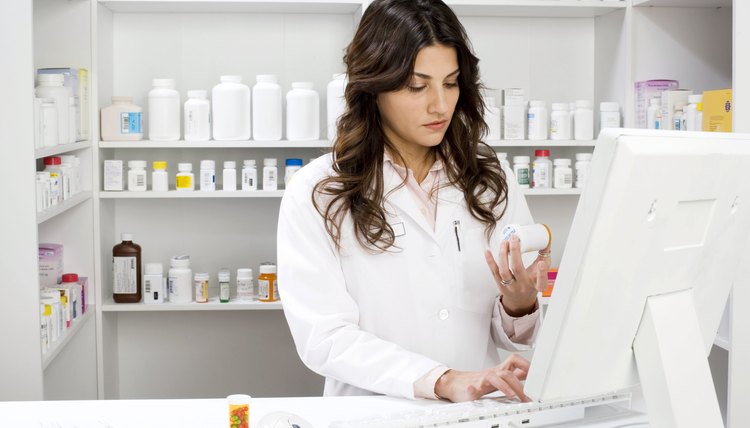 Pharmacy technicians may need to complete some formal training.
According to the Bureau of Labor Statistics, one of the fastest growing occupations through 2020 is that of a pharmacy technician. These assistants work in hospitals, other medical facilities and pharmacies helping prepare and disburse medications to patients. The preparation needed for such a career varies depending upon the state in which you wish to work.
Organizations
In the U.S., two organizations offer certification accepted by employers for pharmacy technicians. The National Healthcareer Association awards the title of certified pharmacy technician to those who pass the certification exam. The second organization, the Pharmacy Technician Certification Board, offers similar certification. Affiliation and certification requirements with these organizations vary by state and employer.
Certification
The Pharmacy Technician Certification Board indicates that certification is important even when not required since certified pharmacy technicians tend to make more money and have more career opportunities than those without certification. Before you get a job, certification can open more doors within the field. If you are already working in a pharmacy environment, your employer may foot the bill for the certification exam.
Requirements
Typical educational requirements for pharmacy technician certification include a high school diploma or GED. Applicants also must be a minimum of 18 years old and have a clean criminal background. Any past disciplinary action from a state regulatory board may prevent certification from these organizations. For National Healthcareer Association certification, applicants must complete a pharmacy technician preparation program or work in such a position for at least one year in lieu of the education.
Programs
Pharmacy technician college programs prepare students for the certification exams and the career by teaching medical math, record-keeping requirements, pharmaceutical dispensing, legal and ethical aspects, medical terminology, first aid and CPR, anatomy and physiology, technology in the pharmaceutical environment and career development. These courses may culminate in an internship, offering practical experience under close supervision, like the program through Remington College campuses throughout the eastern and southern U.S. Such programs typically take one year or less to complete.
Photo Credits
Jupiterimages/Comstock/Getty Images