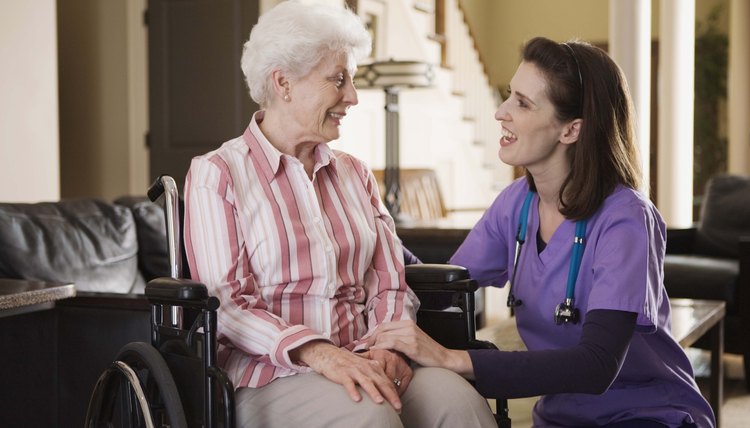 Some nurses offer home health care services.
Licensed practical nurses and licensed vocational nurses work under the supervision of registered nurses in hospitals and other health care facilities. Nurses give direct patient care and advise patients and their family members about health conditions. Nursing programs vary by institution. Nursing students that earn a bachelor's of science degree are eligible to take the nursing licensing examination. Nursing programs require students to complete general education, basic science and clinical nursing classes.
Science Courses
Nursing schools require students to complete foundation courses in science. Penn State University's bachelor of science is composed of a program of rigorous laboratory and course requirements in the areas of physiology, biology, chemistry and microbiology. The University of Wisconsin -- Madison's bachelor's of science students take chemistry, physiology, anatomy, microbiology or biochemistry, pathology and pharmacology. Penn State also requires students to learn about nutrition. The first two years of coursework at the University of Missouri includes biology, microbiology, physiology, anatomy and chemistry.
Clinical Nursing Courses
Clinical courses provide the practical skills necessary for the profession. Many nursing programs offer clinical courses in the third and fourth year of bachelor's studies. The University of Missouri's clinical course offerings include Nursing Skills, Technology and Simulations, Pathophysiology and Therapeutics, Foundations for Nursing: Physical Assessment and Nursing Process, and Pharmacology and Nursing Implications. The University of Wisconsin - Madison's practical classes encompass: Health History and Patient Assessment, Community Health Nursing, Essentials of Family-Centered Perinatal and Pediatric Nursing, Legal and Social Forces in Nursing, and Clinical II: Nursing Care in the Inpatient Setting.
Research
Nurses must have skills in understanding and interpreting data and statistics, conducting investigations and carrying out research. Therefore, required nursing school classes include coursework in statistics, mathematics and research methodology. For example, nursing students at the University of Wisconsin -- Madison complete coursework in quantitative reasoning and math. The school also offers a course called Introduction to Systematic Investigation. The University of Washington's program requires nursing students to enroll in Nursing Research and Methods. Penn State students take statistics or biostatistics and a class called Understanding and Applying Nursing Research.
General Education Classes
Many nursing schools have course requirements in nonscientific fields such as the humanities and English. Penn State nursing students must complete courses in English, speech and arts and humanities. The University of Missouri's general education requirements include algebra, political science or American history, humanities or fine arts, sociology and human development. The University of Texas at Austin's nursing program includes required coursework in government, English, U.S. history, psychology, visual and performing arts and Spanish for healthcare professionals.
Photo Credits
Jupiterimages/Brand X Pictures/Getty Images