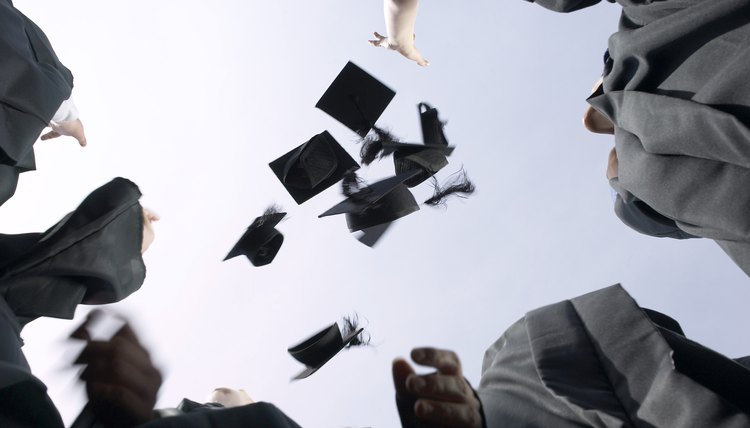 Getting a GED rather than a high school diploma may reduce your earning potential.
Needing to earn money, having children, suffering from failing grades or just not finding classes interesting may have you wondering if you should drop out of high school and get your GED. Making the decision to stay in school for your diploma or dropping out and getting your GED should not be taking lightly. Getting your GED rather than your high school diploma has a direct effect on your earning potential and job growth.
Less Likely To Finish College
If you aspire to achieve a college degree, then completing high school may be a wiser choice than receiving your GED. While 95 percent of U.S. universities accept the GED in place of a high school diploma, that does not mean GED recipients have the same level of success in college. According to research conducted by the American Council on Education, 77 percent of GED recipients only enroll for a single semester of college courses before stopping college.
Lower Wages
GED recipients get paid less than high school graduates, according to research conducted by Joel Elvery, Assistant Professor of Urban Studies at Cleveland State University. Elvery found that GED recipients earned approximately the same wage as high school dropouts, 6.5 to 10 percent less than high school graduates. According to Elvery, one reason for this discrepancy is that a GED certificate sends mixed signals to potential employers, showing that you are educated, but lacking discipline compared to high school graduates. This leads employers to value your time and skill level less, so they pay you at a lower hourly wage.
Less Job Success
With a GED, your career may advance more slowly than if you had received your diploma. According to research conducted by professors at the University of Chicago, GED recipients experience labor market outcomes closer to those of dropouts. They determined that the lack of success for many GED recipients is based on noncognitive factors, such as lack of persistence, low self-esteem and a propensity for risky behavior. These behaviors, which may have been the same ones that initially motivated a student to get a GED, directly affect job success and therefore advancement opportunities. A high school graduate is more likely to receive promotions over time, allowing him to advance above an entry level position.
When To Choose a GED
Life places many challenges on everyone. If your particular situation has reached the point where you feel you can no longer attend high school, then getting a GED may be a wise option. Uncredentialed high school dropouts work fewer hours and have a higher poverty ratio than GED recipients. The economic benefits of obtaining a GED instead of simply dropping out become more and more substantial later in your career, according to research conducted by Melissa Clark and David Jaeger and published in the Journal of Population Economics. A GED recipient works 11 percent more hours than a high school dropout, which leads to an increase in wage earnings and a lower risk of poverty, according to a study conducted by the American Council on Education. Additionally, 63 percent of GED recipients say they like their job very much or fairly well, while only 54 percent of high school dropouts say the same.
Photo Credits
Hemera Technologies/AbleStock.com/Getty Images