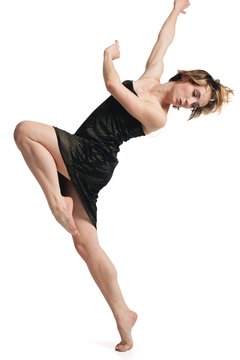 Performance experience will help you become a confident dancer.
Becoming a choreographer is a great way to display your creativity and artistic expression. Choreographers work with individuals and groups to provide direction and guidance on dance skills and production numbers. You have seen choreography in commercials, movies and theatrical productions. There is nothing more rewarding than seeing your dance ideas become a reality on the big stage. Becoming a choreographer requires you to be a proficient dancer, become a well-rounded performer, and gain practical experience.
Dance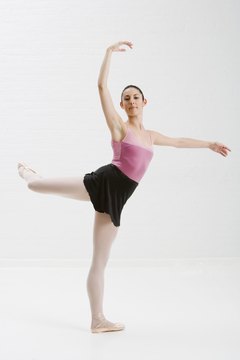 Fundamentals are key when becoming an accomplished dancer.
If you aren't currently taking dance classes, enroll in a local dance studio and do your best to learn a wide variety of different styles. If you are a member of a studio, be sure that you work hard to master each type of dance: modern, jazz, tap and ballet. Learning the fundamentals of dance styles is essential to providing direction to other dancers. It will also help you create dance numbers for a wide variety of purposes.
Become a Well Rounded Artist
The ability to provide direction and encourage a team are important qualities of a choreographer. Get involved in high school to improve your leadership skills. Iseek Careers suggests that high school courses such as music, theater and physical education are helpful preparatory courses. Musical composition is at the heart of dynamic dance routines. Theatrical productions often include dance numbers and physical education will give you the stamina to be a strong athlete. Classes in gymnastics, karate, fencing and modern dance all lend themselves well to honing dance skills. These skills will help you prepare to be a well-rounded choreographer.
Specialized Training
Participate in special training, such as dance camps offered by Universal Dance Association. High school dance and cheerleading teams often go as a team to summer dance camps. You can learn new techniques, connect with master dancers, and practice your artistry. Some dance companies offer summer training programs. You may be able to obtain a scholarship based upon your dancing ability. Develop your expertise by learning from as many different dance experts as possible.
Gaining Experience
Take every opportunity to create dance routines. You may be able to choreograph for your high school dance team or local dance studio. Apply for a summer internship with a community theater or dance school. Discover the style that best fits your talents and teach your friends a routine. Community centers and shopping malls welcome performers. Dance and perform whenever possible. Video your routines and begin building a portfolio that showcases your work.
Resources
Photo Credits
Photodisc/Photodisc/Getty Images