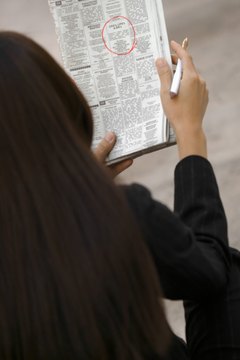 Your English degree can pave the way to a career.
After four long years away of toiling away at college, you've finally completed your bachelor's degree in English or humanities. Because humanities degrees, which can also include fields of study such as foreign language, philosophy or history, are not as concrete or specific as, say, chemistry or business degrees, you may have trouble deciding where to begin your job search. The good news is, the research, writing, reading and thinking skills you've mastered over the course of attaining your versatile degree are transferable to a number of careers.
Teaching
An English or humanities degree provides the perfect foundation for a teaching career, especially at the secondary or postsecondary levels. Teaching in a public school typically requires state certification in addition to a bachelor's degree, and teaching at the college level often requires a master's degree or beyond. Therefore, pursuing a teaching career may require additional schooling beyond your bachelor's degree.
Advertising and Marketing
The advertising and marketing fields require highly creative people with good writing skills, which makes them a good fit for someone with a bachelor's degree in English or the humanities. While entry-level advertising positions may not be glamorous -- you may find yourself running errands and answering phones at first -- if you prove your worth, you may be able to leverage your knowledge into a copywriting spot, a la Peggy Olson of "Mad Men."
Journalism
Because it requires research, writing and good communication skills, journalism is another excellent career choice for those who possess an English or humanities degree. Opportunities for journalists include traditional formats such as local and regional print newspapers or magazines, television and radio, as well as an ever-growing pool of online news outlets.
Law
Research skills: check. Writing and communication skills: check. Ability to analyze and think abstractly: check. Students with degrees in English or the humanities are often prepared to pursue legal careers. In fact, along with political science degrees, liberal arts degrees are commonly accepted prerequisites for admission into law school.
Photo Credits
Jupiterimages/liquidlibrary/Getty Images