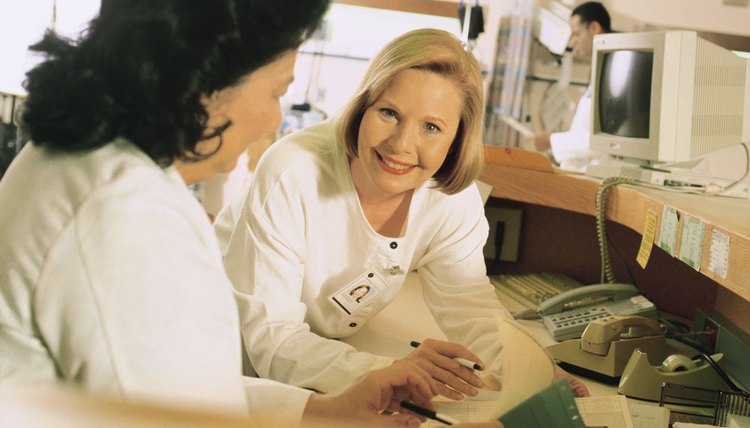 Nurses with master's degrees have more management opportunities.
It can be hard to leave a profession you love, even if you're only leaving temporarily to pursue higher education in that field. But when it comes to getting a master's of science degree in nursing, the benefits may outweigh the costs. When you're considering whether you want to get a master's in nursing, think about the future professional advantages as well as the short-term costs.
Management Opportunities
If you think you have the leadership skills to be a great manager, then a master's degree in nursing may be perfect for you. An MSN advances you career by opening up all kinds of administrative and managerial positions. That level of education can make you eligible for almost any management opportunity you can think of, including board certification in nursing professional development, or careers as a nurse executive, chief nursing officer or other nurse administrator.
Teaching Opportunities
Many people find that nursing is a rewarding career; others think the same thing about teaching. Becoming a nursing instructor is a chance to lead the next generation of nurses. You can influence the health sector so much more as a nursing instructor than you can as a single nurse. Many nurses get a master's in nursing not just so they can become better nurses, but so that they can use their experience, expertise and education to mentor others in the field.
Doctoral Opportunities
Sometimes when you enter academia, it's hard to leave. Getting your MSN may make you realize you enjoy a researcher role in the health sector even more than the practitioner role. You can make a major contribution to nursing by being a doctoral student, since research is a huge component of the health sector, but you usually can't become a doctoral student without first having a master's degree. If you think that you want to continue advancing your education, start with your master's in nursing and build on that with a Ph.D.
Increased Income
Nursing is like most professions in at least one way: a higher level of education usually leads to a higher income. On average, nurses with master's degrees earn higher salaries than those who don't have master's degrees. Salary.com and the U.S. Bureau of Labor Statistics both report very healthy earnings for nurses who have advanced in management, with nursing directors earning an average of $117,909; nursing educators in general hospitals earn an average of $76,140 while those in specialty hospitals earn $103,500.
Photo Credits
Comstock/Comstock/Getty Images