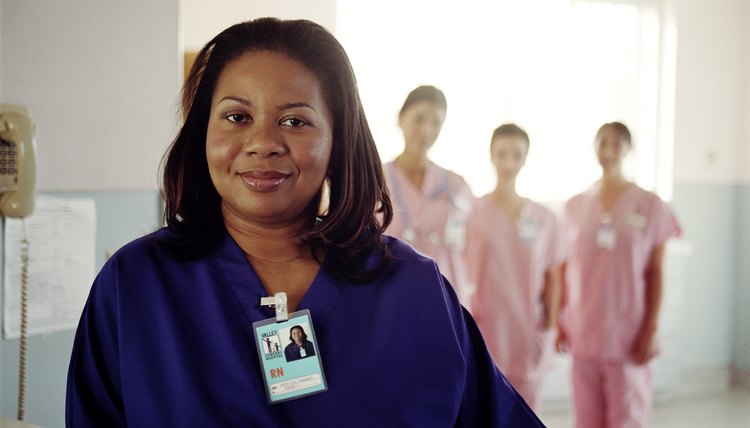 Bachelor degrees in nursing often include classes in nursing management.
There are two main paths to becoming a registered nurse, by earning a bachelor's degree or by earning an associate degree. Nurses with associate degrees and nurses with a bachelor's degree learn the same basic skills and must pass the same test to be licensed, but the degrees are not equal. Associate degrees are faster to complete and often more affordable, but bachelor degrees create statistically safer nurses who are less susceptible to potential changes in the industry.
Time and Money
The biggest advantages of earning an associate degree over a bachelor's degree in nursing are time and cost. Associate degrees in nursing are typically designed to take two or three years to complete, while baccalaureate programs tend to take at least four. This means students in associate nursing programs can become licensed, working nurses sooner and can start making money sooner. Associate degrees also tend to be more affordable. On the other hand, a CollegeMeasures.org study shows that nurses from associate programs often earn about $3,000 less per year than nurses from baccalaureate programs.
Extra Education
No accredited nursing degree program will leave graduating nurses unable to perform their duties. Both associate and bachelor's degree programs teach the same necessary fundamentals. However, bachelor degree programs take the training farther, requiring additional general education classes and in-depth study of nursing issues not covered in associate programs. General education classes are university-wide requirements, like English, math, psychology and history. Advanced nursing coursework includes topics like evidence-based nursing and leadership and management concepts.
All the Difference
A notable advantage of bachelor degrees in nursing is that they save lives, statistically speaking. Studies published in journals such as Medical Care, the Journal of Nursing Scholarship, Health Services Research and the Journal of Nursing Administration have found correlations between nurse training and patient outcomes. These studies have found that fewer patients die under the care of nurses with baccalaureate degrees. For example, a study completed by researchers from the University of Toronto that was published in the Journal of Advanced Nursing in January 2007 found that a 10 percent increase in nurses with a bachelor's degree was associated with a 1-to-5 percent decrease in deaths over a 30-day period.
The Future
For nurses, one of the biggest current advantages of a bachelor's degree over an associate degree is that it's future proof. Medical associations have taken note of studies that show nurses from bachelor's degree programs perform better, and many of these associations have proposed raising the minimum education requirement for nurses to the bachelor's level. Others have proposed giving new nurses with associate degrees ten years after graduation to complete a bachelor's degree. If either of these requirement changes occur, nurses who start with a bachelor's degree will not be affected.
Photo Credits
Mike Powell/Digital Vision/Getty Images