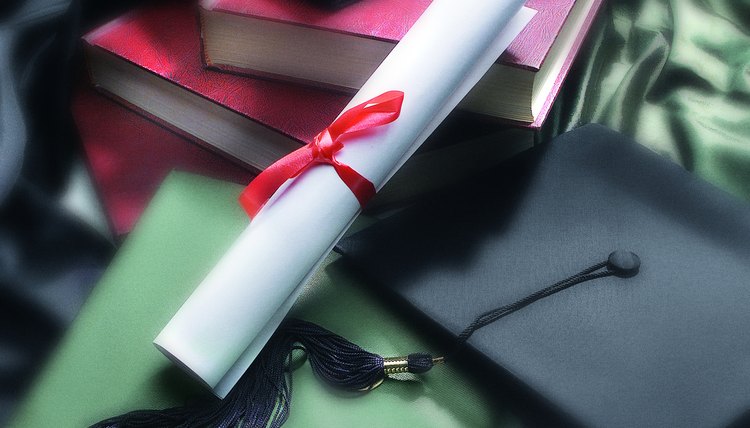 B.A., M.A. and Ph.D. degrees have different meanings.
There are many degree options to choose from in higher education; it can be confusing which degree will best serve your educational and career goals. There are many differences between B.A., M.A. and Ph.D. degrees. Knowing these differences can be beneficial in helping you determine the best education option for the career you wish to pursue.
B.A.: Bachelor of Arts
A B.A. degree is a Bachelor of Arts degree. Typically, this is a four-year degree program within a specified departmental major. B.A. degrees are undergraduate degrees conferred upon completion of a Bachelor of Arts program or by transferring credits from an associate degree program toward the completion of a bachelor's degree program. Bachelor of Arts degrees emphasize education in the liberal arts. You are often required to complete course credits in fields such as humanities, social sciences, natural sciences, mathematics and foreign language. Some schools may also require additional categories of course work, such as multicultural studies. To complete a B.A. degree, you must also declare a major field of concentration for the degree. The major concentration is normally associated with the humanities or social sciences.
M.A.: Master of Arts
An M.A. is a Master of Arts degree. Master of Arts degrees are graduate degree programs within a concentrated specialization pursued after the completion of a bachelor's degree. Students often pursue master's degrees to gain promotion in their current careers or to advance to a new career within their field. Master of Arts degrees are research degrees, as students often must complete extensive field research resulting in a master's thesis, a capstone project or a comprehensive examination. If you're wishing to pursue doctoral studies, you must often complete a master's degree.
Ph.D.: Doctor of Philosophy
A Ph.D. means Doctor of Philosophy and is the highest academic degree you can earn within a field of study. Students who complete a Ph.D. receive the title of doctor. A doctoral degree requires extensive research, often leading to the completion of a dissertation. Ph.D. recipients can progress toward careers as college professors, researchers or other professional positions related to their field.
Selecting the Right Degree
If you're wishing to pursue higher education degrees, you should consider your career goals and the objectives you hope to accomplish. You should research the career you intend to pursue and determine the level of education needed to acquire the position. You should speak to academic and enrollment counselors at the prospective institutions where you wish to study before making final decisions about your education. Some careers require only a bachelor's degree, while others prefer graduate degrees in the form of a master's or doctoral degree.
Photo Credits
Jupiterimages/liquidlibrary/Getty Images