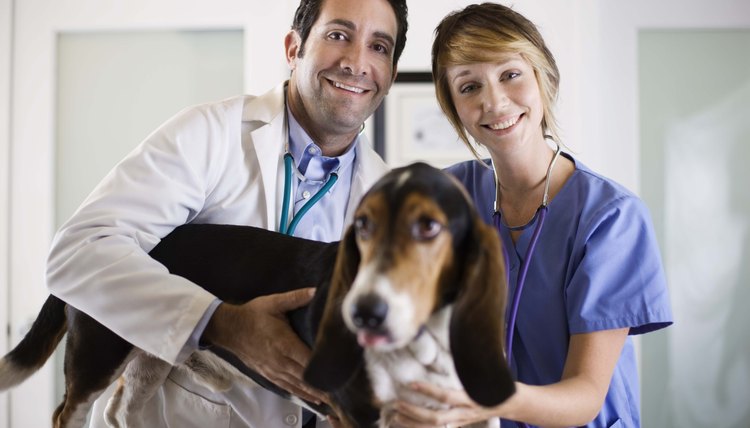 An associate degree in science can help you get a job as a veterinary technician.
An associate degree in science typically is a comprehensive two-year program with an emphasis in the sciences. This degree can serve as a springboard to a science-related bachelor's degree program or an entry-level science-related job. You can receive an associate degree in science at community colleges, junior colleges and some four-year colleges. It differs from associate degree in arts, which is a more general, broad-based program that focuses on arts and social sciences.
Basic Associate Degree in Science
Throughout your courses, you will acquire knowledge and skills related to basic computational, earth and life, physical or mathematical sciences. You will be introduced to the scientific method and the foundations of a range of science disciplines. This core knowledge and development of academic and scientific skills can help you acquire a job as a technician in a science-related field or allow you to advance your academic studies.
General Courses
At most colleges, you must take a set of general education courses in addition to your science coursework. These general education classes help make your college experience broader than simply learning about your chosen major. At the University of Alaska Fairbanks, students must take English, communication, humanities, arts, social sciences, and mathematics classes in addition to their science courses. For the science portion, students can take courses in biology, chemistry, geography, and physics, among others.
Job Options
An associate degree in science can provide you with numerous employment opportunities, mainly as a technician. According to the Bureau of Labor Statistics, occupational options include agricultural and food science technicians, chemical technicians, environmental science and protection technicians, forest and conservation technicians, veterinary technicians, geological and petroleum technicians and nuclear technicians. The median pay for these positions ranges from $36,480 to $80,260.
Further Education Options
Many students obtain an associate degree in science if they plan to pursue a bachelor's degree in biology, chemistry, agriculture, mathematics, engineering or physics. Students who want to further their studies in medicine, dentistry and veterinary medicine can also benefit from an associate degree in science by transferring credits or enrolling in a "pre-major" program, such as Southwestern Illinois College's associate in science degree in pre-veterinary medicine.
2016 Salary Information for Life, Physical, and Social Science Occupations
Life, physical, and social science occupations earned a median annual salary of $63,340 in 2016, according to the U.S. Bureau of Labor Statistics. On the low end, life, physical, and social science occupations earned a 25th percentile salary of $45,060, meaning 75 percent earned more than this amount. The 75th percentile salary is $91,060, meaning 25 percent earn more. In 2016, 1,299,500 people were employed in the U.S. as life, physical, and social science occupations.
Photo Credits
Jupiterimages/Brand X Pictures/Getty Images