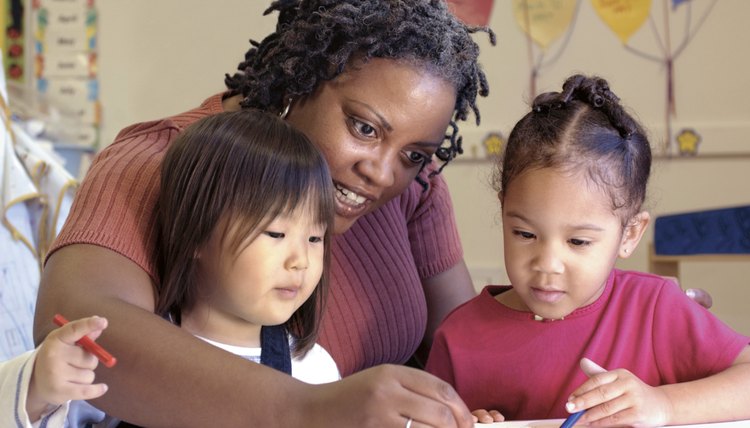 Learn what Arkansas requires of prekindergarten teachers.
Sending your child to preschool can be daunting. You worry about what he is learning, how qualified his teacher is and if it is worth the extra expense. In Arkansas, you can rest assured that your preschooler's teacher meets the requirements for obtaining the preschool teaching license. Educators that teach in an early childhood setting must have a Birth through Prekindergarten teaching credential.
Education
In order to obtain a Birth through Prekindergarten credential, the applicant must have between 18 and 27 hours of college-level training in the subjects of early child development and early childhood education with a focus in the care of infants, toddlers and preschoolers. This training can be part of a two- or four-year degree or through a program specific for the Birth through Prekindergarten certificate.
Testing
Before receiving the teaching credential for teaching preschool, the applicant must first pass a competency test in the age group she wishes to teach. The score on the test must meet the Arkansas Qualifying Assessment Score.
Background
During the application process, each applicant must submit for a non-criminal background check and a check of the Child Maltreatment Central Registry.
Application
The Division of Child Care and Early Childhood Education office handles applications for the Birth through Prekindergarten teaching credential. The application requires copies of college transcripts, background checks, assessment scores and personal information.
Continuing Education
Preschool teachers in the state of Arkansas must complete at least 30 hours of continuing education. The continuing education helps keep the teacher abreast of new regulations, informs the teacher about new studies regarding preschool and gives the teacher the resources he needs to serve your child's education needs. Each year, at least 10 of the 30 hours of continuing education must focus on a specialty such as Special Populations, English as a Second Language, Nutrition or Health and Safety. The teaching credential is good for five years, but the continuing education is submitted and verified by the Division of Child Care and Early Childhood Education yearly.
Photo Credits
Liquidlibrary/liquidlibrary/Getty Images