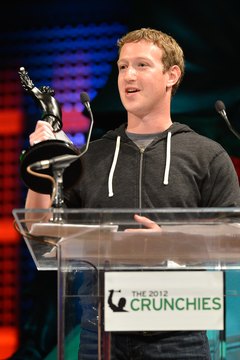 Mark Zuckerberg not only started Facebook while he was at Harvard, he found many of his work cohorts there as well.
Attending a prestigious private college or university is a common goal among ambitious college-bound students. Obtaining a diploma from any one of these schools means you've reached the highest pinnacle of academic excellence. It can open numerous doors, as the career of tech industry luminary Mark Zuckerberg has demonstrated. However, attending a private college instead of a public one can also have drawbacks.
Smaller Class Sizes
Private universities and colleges afford you the opportunity to take classes with fewer students. This allows for more one-on-one interaction with your classmates and professors and offers you the advantage of having more engaged and spirited class discussions, even among the shyer people in class. You can also have a more authentic and direct relationship with your professor, as smaller class sizes mean that the professor, instead of her assistant or a graduate student, teaches the class.
Networking
Admission into a competitive university presents its graduates with on-going benefits down the road. An article on the Peterson's website suggests that students at private colleges and universities gain networking benefits that former students tap into to get jobs down the road. For example, if your college roommate ends up in a high-ranking position in a company or industry that you want to get into, having that college connection may secure you a spot within that company.
Higher Costs
Private colleges and universities usually cost more to attend. According to US News and World Report, attending a big name private university will cost students over 200 percent more than attending if the student attended a public school in their state. Universities such as NYU, Duke, or Wake Forest, which are not Ivy League but still private, charge similar tuition rates. You can offset some of the cost of attending these institutions through grants and scholarships. However, if you have to borrow a significant amount of money to attend one of these schools, this can become a disadvantage, affecting many areas of your life, including your ability to buy a home after you finish college.
Competition
Students applying to a private university can expect some fierce competition. According to an article on the Harvard website, just under 6 percent of the students who apply to the school receive an offer of admission. Securing a spot in other private universities proves equally difficult. Acceptance rates of between 2 and 8 percent for universities such as Columbia show the difficulties students face when applying to a more competitive, private school.
Photo Credits
Steve Jennings/Getty Images Entertainment/Getty Images