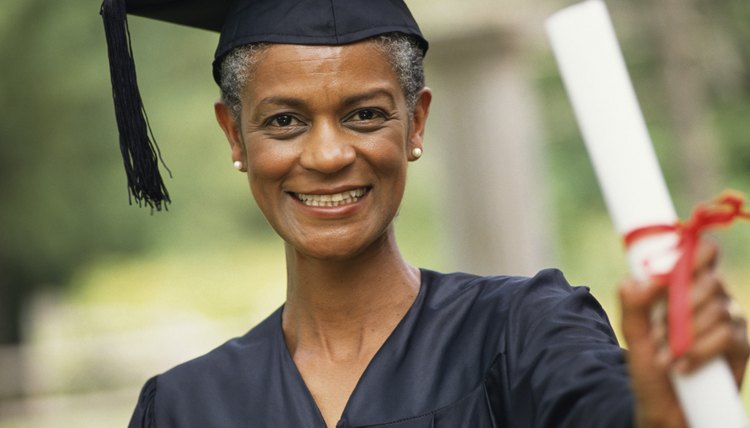 Several doctoral-level accounting programs in the U.S. stand out as exceptional.
A number of colleges and universities across the U.S. offer a Ph.D. in accounting. Accountants prepare and examine financial records and reports. Students earning a doctoral degree in accounting are trained to conduct research on issues related to financial reporting, managerial accounting, auditing and taxation. "U.S. News and World Report" has ranked the top graduate accounting degree programs for 2014. Students pursuing a degree in accounting should select a reputable program that closely aligns with their professional goals.
University of Texas, Austin
The McCombs School of Business at the University of Texas, Austin, is home to the most prominent accounting Ph.D. program in the nation, according to "U.S. News." Its students focus on topics related to empirical research in accounting, studies in profit planning and control and managerial accounting and financial statement analysis. Coursework is structured to cover basic accounting principles and research while also allowing students to customize their study plans according to personal academic interests. All doctoral students are required to spend at least one semester teaching an introductory-level accounting course.
University of Pennsylvania
The University of Pennsylvania's Wharton School of Business offers the No. 2 Ph.D. program in accounting in the nation, according to the "U.S. News" ranking. Wharton's doctoral degree in accounting provides an interdisciplinary approach to the discipline, combining courses related to economics, operations management and statistics. Students focus on such course topics as accounting theory research, econometrics and statistics, agency, information, incentives and financial institutions. Degree candidates have access to a variety of workshops and conferences to keep them up to date on current trends in the accounting industry.
University of Illinois, Urbana-Champaign
The Ph.D. program in accounting at the University of Illinois, Urbana-Champaign, is ranked third by "U.S. News." Coursework highlights topics such as value creation; tax policy, procedures and auditing; and assurance standards. Before graduating, students must show evidence of solid research skills by preparing a paper at the Accountancy Research Forum as well as presenting and writing a dissertation. In addition to completing the dissertation, students studying accounting at the University of Illinois must earn 96 credit hours and successfully pass a written departmental examination to fulfill graduation requirements.
University of Chicago
Coming at No. 4 in the "U.S. News" rankings is the accounting program at the University of Chicago's dynamic Booth School of Business. The faculty at the University of Chicago publishes the "Journal of Accountancy," the premier research journal in accounting. The program requires students to complete coursework on advanced econometrics, behavioral finance, price theory and topics in asset pricing. In addition, doctoral students are encouraged to attend and participate in weekly research workshops that concentrate on a variety of subjects associated with accounting developments.
Photo Credits
Jupiterimages/liquidlibrary/Getty Images