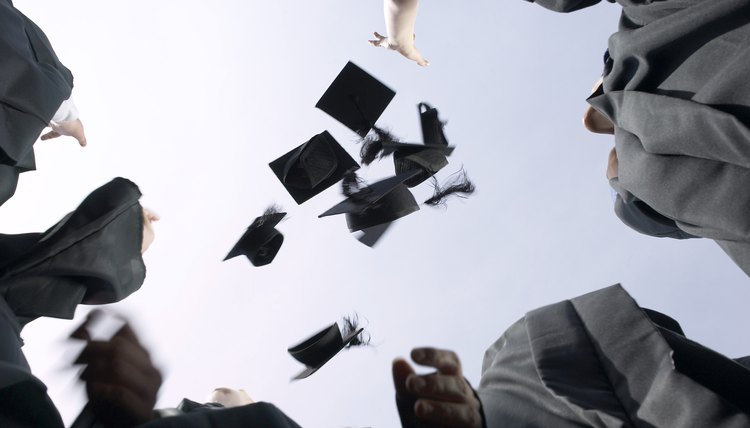 Graduating from high school means it's time to become an adult.
As graduation approaches, teens need to know there's more to life after high school than choosing a college or university to attend. A high school graduate needs to know the options available when planning their futures and the expectations of adult accountability as they enter the real world as responsible young adults.
Personal Passions
As graduation approaches, it's time for students to take a hard look at their true passions, whether academic subjects, extracurricular activities or an outside interest. Knowing their personal passions helps teens find career paths to which they can happily devote their lives.
Career Possibilities
Whether they're mad about fashion, movies, science, sports or planning parties, students should learn all they can about career opportunities in fields they're passionate about. They should be able to link their passion to a position, such as a clothing designer for fashion fans and jobs in public relations for those interested in staging celebrations.
College Choices
Students need to consider not only the college majors available, but also the school's academic reputation in the professional world. For example, while an Ivy League degree may impress on Wall Street, students interested in a career in film are better prepared with a degree from the University of Southern California or New York University.
Academic Alternatives
Traditional college alternatives, such as culinary, technical, trade or fashion schools, are good options for students who would rather forgo academia in favor of training to prepare them for careers more quickly. Undecided students should know they can start out taking general education classes at a community college before committing to a four-year institution.
Overseas Options
Some seniors might wish to put off college in favor of experiencing a foreign culture through time spent abroad. These students should know about opportunities to volunteer or study overseas for a summer, a semester or an entire school year.
Financial Obligations
Higher education comes with a hefty price tag and students taking out loans need to know they will be the ones stuck with the student loan bill. High school graduates should also know the ins and outs of balancing their bank statements, planning a monthly personal expenses budget and managing credit card accounts.
Emergency Etiquette
When graduating teens leave their parents' homes for the first time, they'll have to rely on themselves if emergencies arise. They can learn CPR and take courses in driver safety, along with getting an adult's advice on how to handle challenging situations such as car accidents or inebriated friends.
Adult Accountability
It's important for young adults to fully understand that the freedom they'll have after high school comes with the price of a greater accountability for their actions. Parents and high school graduates need to engage in frank conversations regarding issues including alcohol abuse, drunk driving, drug usage and sexual activity, as teens may encounter these temptations in a college setting.
Social Responsibility
High schools students should also understand that adulthood comes with the responsibility to become a contributing member of society. Young adults need to look beyond themselves to discover ways to improve the world around them through opportunities such as volunteer work.
Life Skills
Moving away from home means teens will no longer have a parent around to make their meals or do their laundry. While academics are important, high school seniors should also know the basic skills needed to maintain their personal health and hygiene.
Photo Credits
Hemera Technologies/AbleStock.com/Getty Images